No Time Wasted
Should Triton seniors be aloud to leave early or come late if they have a study?
Ever had so much work on your hands and all you need to do is get home and get errands done? Well if you're a senior some schools might let you leave school during a study, but Triton will not.
Seniors have a lot on their plates with college decisions and applications. Also, they have a lot of high school work to do, and if they are athletes, sometimes they have late practices which keep them up late at night. With multiple assignments to do they need time to get it done. Sometimes we have studies at the beginning or the end of the day. Senior could use these to come late after staying up all night to study for an exam or can leave early to finish work at home where they could be more productive.
Most seniors are 18 which makes them" legal adults" so they should be able to leave school if they have a study to get things done.
This is the senior last year in high school. After this, they go onto the real world and have to make choices. To teach students to make good choices and to use their time wisely. Also, this is going to help with multiple tasking. Leaving school early or coming in could be a senior privilege so that everyone can work towards it.
In a student's article on the Stroudsburg High school website, the staff writer writes about the benefits of leaving early for their school."I leave school early every day and go to work. I think it's great I get to leave early everyday; it allows me to save up money for college and other things,". There are plenty of other benefits for the senior, but this is just one to help them grow.
Triton might not let us leave early or come in late yet, but there are schools around us that do. Reading Memorial and Masconomet High Schools have their parents sign a permission slip letting their kid leave and come. But their grades have to be good and have at least a 2.0 GPA. 
On the Reading Memorial website, the senior release form states all the necessary requirements. With the permission that needs to be signed by the parents. It states that if you come in late then you have to be there by the second period and you can't be later than five minutes or you lose your privilege. Also when you leave they have to go through the 12th-grade office before they leave.
Senior Ava Ford a captain on the girl's basketball had some insight on the subject. Not just playing basketball and being a student, Ava is also part of student council and community service. With late practice and early morning meetings this senior privilege could be beneficial for her.
"I think that it would be a great opportunity for Seniors. It gets tiring sometimes doing multiple sports and extracurriculars, so even leaving an hour early, or coming in an hour late would honestly help a lot. It'd be a nice little reward, ya know?" Said Ford.
Even though most seniors are 18 we are under school protection during the day. Its called in Loco Parentis. When children attend school, parents share some of that responsibility with teachers and administrators. So if seniors leave during the school hours we are still under school supervision. If they ever got into an accident or in trouble for something the school is responsible for the senior.
If triton ever puts in this senior privilege there would be rules in place to prevent problems, just like Reading Memorial High. You need a certain grade average and need parent's permission, even if you are 18. Also, some seniors should be trustworthy enough to drive safely and stay out of trouble. They should know how to use the time wisely and will help grow in maturity with responsibility.
Not everyone can be as productive as at home at school or have a lot of school work to catch up on. They could be a little sleep-deprived and sometimes they just need a break. This senior privilege could be very helpful in the Triton school.

Loading ...
About the Writer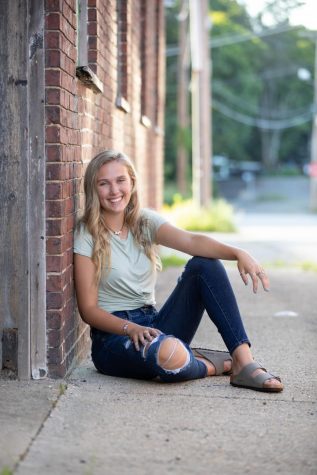 Paige Volpone, Staff Writer
Hi. My name is Paige Volpone and I'm a senior at Triton High School. I am a three-sport varsity athlete. I play Lacrosse, Volleyball, and Basketball. I...