The Best Dance Movies
There's the "(I had) The Time of My Life" by Bill Medley and Jennifer Warnes plays during the iconic lift in Dirty Dancing (1987). What about the duet with Ryan Gosling and Emma Stone in La La Land (2016). Dancing like this takes place in lots of movies. Some movies even became musicals right after the film. Musicals like Hairspray and Grease are both iconic movies that would cause debates on which film is better. Some movies barely get the recognition it deserves.
"Chicago (2002)" starts out with actress Catherine Zeta-Jones as Velma Kelly singing All That Jazz. It sets the right mood for the audience. Meanwhile, the main character Roxie Hart, played by Renée Zellweger, ends up having an affair with her husband and shoots the man. She turns herself into the police and tries to make a new story of the whole murder scene. Her genius lawyer, Billy Flynn, tells the jury that Roxie Hart and the other man both reached for the gun. When in reality, Roxie shot him on purpose. Billy Flynn shares to the world the story and Roxie eventually becomes famous for her murder. Roxie's time in jail allowed her to meet other people that had similar backstories. Velma Kelly, another inmate, and Roxie Hart become a singing duet. The singers, dancers, and choreography are outstanding. It's just a fun, clever movie that will never get old. Dance made the movie more thrilling and exciting. 
Roxie Hart, Velma Kelley, Billy Flynn, and many more characters sing and dance for an extra-musical flair to the movie. There's an iconic scene where Roxie Hart and Billy Flynn are on stage performing telling the audience that Roxie and the man both reached for the gun. The song they sing together is very catchy and will get stuck in anyone's head if they listened to it. The song will make you want to bounce along to the beat. The jazzy dance choreography is unique in that scene. Billy Flynn is using Roxie as a puppet and she goes along with the story that he has created for her to get out of prison. It indicates more of a storyline and entertainment for the audience. But the way they connect and dance together makes the movie more exciting. The story is very believable and creative. The ending of the movie is a perfect way for it to end. The two main murderous characters becoming a jazz duo act.
Catchy music and dancing make movies more fun. Animated movies that are based around dance like Happy Feet (2006) and Leap! (2016) makes some of the dance technique more effortless. Of course, Happy Feet is literally about penguins tap dancing around the snow but Leap! has more of a realistic ballerina movie.
Leap! focuses on a runaway orphan named Félicie Milliner, voiced by Elle Fanning, which slowly becomes a ballerina for the position at the Grand Opera House in Paris. She practices and practices every day, trying to achieve her goal. There's some competition with Félicie and another girl named Camille Le Haut, voiced by Maddie Ziegler, who is very stuck up about her dancing. She strongly believes she'll be given the position and rubs it in Félicie's face. But it doesn't stop her from working harder. I think it's a good message for the audience they're mostly looking for; Younger kids who want to become ballerinas one day. The movie has fun music and silly characters. The storyline drags a bit, but again, the audience is more for kids than teenagers in high school.
 It's a silly dance movie that stood out to dancers. As a dancer myself, it doesn't define the dance community very well because of the competition the girls have for the position of the show. It's not realistic and older dancers have noticed it too. The animation made most of the techniques in dance seem effortless and easy. In reality, as much as it seems, dance is not as easy as you think. The main character even becomes a better dancer within a few weeks. Meanwhile, it takes time and patience to continue growing as a dancer. The message the movie sends for the younger performers helps them realize that practicing every day will make you feel more of a ballerina.
About the Writer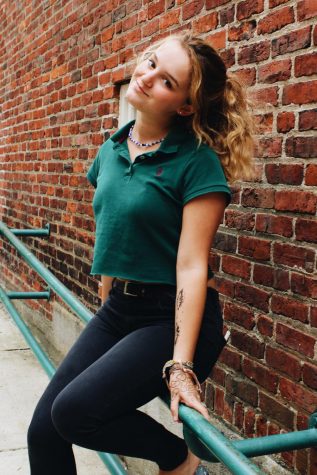 Amanda Ouellette, Staff Writer
Hi! My name is Amanda Ouellette. I'm a senior at Triton Regional High School. I enjoy photography, art, and dancing. I have an older sister who's 20...