Frozen vs. Frozen 2
How does the long awaited sequel compare to the beloved Frozen movie?

Loading ...

Elsa and Anna discover that their parents have a surprising backstory in the second installment of the Frozen series.  

Frozen 2 officially hit the box offices on November 22nd. This release has been long anticipated by Frozen fans everywhere as it finally came out six long years after the first movie. The new movie follows Elsa (Idina Menzel), Anna (Kristen Bell), Kristoff (Johnathan Groff), and Olaf (Josh Gad) in an adventure with just as many twists and turns as the first.    

Both movies received outstanding ratings from viewers, the Rotten Tomatoes viewer rating for the first movie being an 85% and the second movie with an even loftier rating of 92%.

The first movie follows Anna and Elsa as they try to handle their lives as the rulers of their kingdom, Arendelle. Elsa, who has been hiding her ice powers from the people for her whole life finally cannot conceal them any longer. She is fought by enemies who try to take over her kingdom but in the end, she is able to return to her kingdom and rule happily.

Frozen 2 is the ideal movie to follow up Frozen. I admire that the writers did not try to mimic the first movie by tiring out old themes from the first. Instead, they created a whole new storyline that tied in details from the first movie and expanded upon them more. I won't give any spoilers because the movie is still fairly new but one of the best aspects of the movie was how they gave more of a backstory to Elsa's parents. All we knew in the first movie was that they tragically died in a shipwreck. In Frozen 2 we learn more about their death as well as their backstory. In Frozen, Elsa becomes truer to herself by revealing her ice powers to the world. In Frozen 2 she discovers more about herself than she believed possible.

Both films include an incredible selection of original music written for the movie by composers Kristen Anderson-Lopez, Christophe Beck, and Robert Lopez. In both movies, the hit song is sung by Elsa at a moment when she makes a revelation or big decision in her life. In Frozen this moment happens when Elsa finally reveals her magical ice powers and escapes her restrictive life in her kingdom, creating an extraordinary ice castle in the mountains above Arendelle. During this scene, she sings "Let it Go" which became the incredibly popular and favorite song of the movie. In Frozen 2 Elsa sings "Into the Unknown" in which she is essentially singing to a mysterious voice which has been calling out to her since the beginning of the movie, one that leads her to explore herself and her true self. Both of these songs and scenes begin the major storyline of both movies.

The character of Olaf is beloved by everyone who saw Frozen and his role as the light-hearted optimist is certainly not at all downgraded in Frozen 2. In both movies, Olaf doesn't fail to lighten the mood with a funny joke. However, I believe Olaf's character in Frozen 2 is worked into the plot a bit more gracefully. In the first movie, some of his comments seem out of place and redundant. In the second movie, his part is lessened just a little which makes his dynamic in the film much more important. The things he does say are much funnier when they are not worked into every spot possible but instead put in the places where they truly add something to the scene.

So which movie is better? That question is very hard to answer. Both have different enough plots that they are unique in their own ways. They keep important details such as Anna and Kristoff's relationship, and of course Olaf. When it comes down to it, however, I think that while Frozen was more of an introduction to the storyline, Frozen 2 has a plot that engages the viewer a bit more. It has many twists and turns and moves at a fast enough pace that the viewer won't get bored while watching. Frozen and Frozen 2 are both highly acclaimed movies but Frozen 2 comes out on top as the better of the two. The only thing to do now is wait in anticipation of a third.
About the Contributor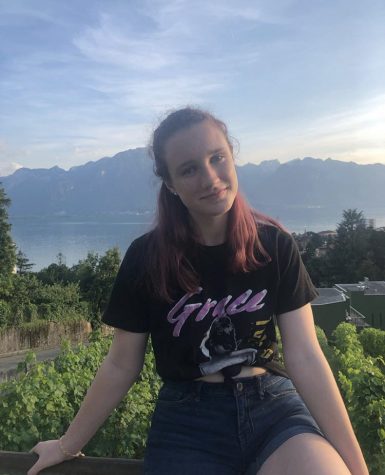 Marcella Hubbard-Brucher, Staff Writer
Hey! My name is Marcella Hubbard-Brucher. I'm a senior at Triton High School. Inside school I play the flute in the Concert Band and sing in the Singers....