Tik Tok takeover
The newest upcoming app "Tik Tok" has taken over all social media platforms by storm.
Tik tok has greatly taken over social media today and it has around one billion users. After interviewing students some found it pointless and other found it fun and enjoyable. Junior Kiley Hughes shared
 "Even though it's stupid sometimes it's actually really fun." 
Social media heavily influences society today. It gives people the opportunity  to express themselves how they would like through a screen. Many forms have survived through our society for years; Facebook, Instagram, Snapchat. Others become a hit seemingly overnight. Tik tok is an app that blew up among the young generation around January of 2018. Based off the past app Musically, it has a wide variety of sounds to choose from in which you can then record yourself doing whatever you please. While some choreograph dances, or lip sic, you can also record your own sound in hopes to make the for you page, or ultimately become "Tik Tok famous".
    Senior Jacob Thistle voiced his opinion, saying,
"You can see people's "amazing" dances, and watch people make a fool of themselves like Meaghan riccio to spend their entire day trying to get tik tok famous"   
For those who make Tik Tok, the feelings are opposite. Triton even has a few students who have gone viral on TikTok. Learning the dances can be fun, along with making funny videos that people can relate to. 
.. It's also a great place for people Senior Abbie Magee also said, "It's surprisingly really addicting because it's so easy to keep scrolling."
   Whether negative or positive, nearly every young person has formed their own opinion of tik tok. Those with the app know that once you start watching, it is hard to stop. In conversation, you may hear tik tok references, or as you look around you may see people doing dances originated from tik tok. TikTok has impacted this generation in irreversible ways.
About the Photographer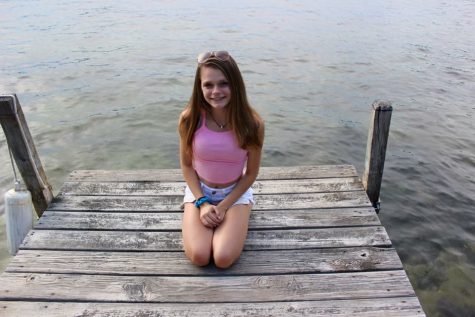 Abbie Magee, Journalist
My name is Abbie Magee. I am a 17-year-old junior at Triton High School. I'm from Rowley Massachusetts and I work at Clam Box in Ipswich. In journalism,...