FRAMED: Millennials?
In the midst of the Generational Wars, Millennial's are accused of the downfall of common household items and activities.

Loading ...

While millennials are busy shaming "boomers", they are also being charged with "killing" the use of common household items and errands. 

Millennials have been blamed for the decrease in several activities, such as marriage, buying houses, and even eating cereal. Are millennials truly to blame for this decrease? As these decreases become more prevalent, some are worried about how this will affect the future, for the worse. This blame comes around the same time as the new slang "ok boomer" as emerged. 

Going to the Bank:

One common trend in the millennial lifestyle is to spend less time in banks. According to BI Intelligence Data, 40 percent of millennials have never visited a bank. This is due to the surge in online banking, as we grow up in the technological era. It is simple to access bank accounts online, or even on a phone through an app. 

"That's kind of scary," said Triton junior Nathaniel Howard. "They won't know how to do that kind of stuff, when it becomes important," he told Triton Voice. 

Department Stores:

Along with banks, millennials are failing to visit larger department stores such as Sears and Macy's. They are instead flocking to more fashionable stores like H&M and Zara. Because of this new trend, Sears will be closing 300 of its chain stores, and Macy's

"

Sometimes I don't have breakfast at all"

— Savannah Sweeny

will be closing 68, according to Business Insider. 

Eating Cereal:

While cereal may seem to be a constant in most people's mornings, the millennials are slowly killing this basic breakfast off too. A survey by Mintel reported that 40 percent of interviewed millennials thought that cereal was an inconvenient breakfast choice. "I don't eat cereal," said Triton junior Savannah Sweeny. 

"I like to drink a smoothie, or sometimes I don't have breakfast at all," she added. As new diets are being introduced, people are choosing "healthier" breakfast choices, or opting out of the meal all together. Eating Breakfast is Not a Good Weight Loss Strategy from Vox.com informs readers on the detriments of eating the morning meal. It discusses a survey that studied the weight of people who ate breakfast and who didn't. "The researchers found that eating breakfast had no effect on weight loss during this period," said the article. 

Honeymoons:

Honeymoons are also on the decline, according to Business Insider. Howard comments that while this trend it doesn't affect him, but he does think that it is weird. "Couples should be spending time together, especially after they just get married. It's what you do," he said.

Honeymoons are being replaced by what is being referred to as "unimoons". According to Busy Lives, Work lead to Couples to Honeymoon Solo After the Wedding from ABCGo News, Unimoons, also known as "solomoons"  are a result of the busy millennial lifestyle. "The trip ultimately inspired the author to reflect on whether he and his wife had become too wrapped up in their careers, and how they could share more meaningful time together" said the article. 

Chain Restaurants:

Last up on this kill list is chain restaurants, like Applebees, Buffalo Wild Wings, and the 99. Senior Timmy Timmons thinks that is a catastrophe in itself: "Where will people like Mr.Richard go to eat?" he said laughing. 

In August, Applebees announced they would be closing 135 of its restaurants, according to Moneywise. The decline in these restaurants is because more millennials are choosing to have food shipped daily to their house through companies such as HelloFresh. 

Are these changes for the better? Both Sweeny and Timmons are not concerned about these changes affecting their generation, Gen Z, at all. As the generational war between Boomers and Millennials rages on, Gen X and Z'ers are left to wish for peace for their generational peers. 
About the Contributor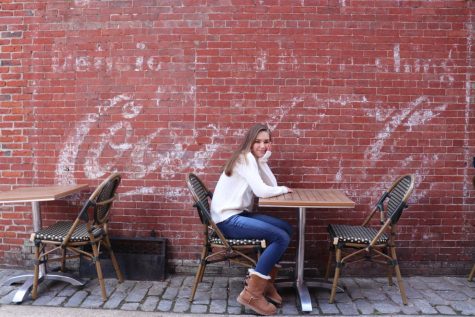 Alexandra Flodman, Staff Writer
Hi! My name is Alexandra Flodman and I am a junior at Triton High School. In school, I love swimming on the Swim Team, as well as participating in VTV....