The GM Strike is Over, What Now?
General Motors has just experienced the longest automotive workers strike in 50 years, and after a great loss of profits, where is GM now?
The GM strike is over and production is back to normal. Union benefits are set in place and now it could be Ford's and Chrysler's turn to strike.
Since only the hourly wage union workers went on strike, the only branch of GM that was shut down was the production of parts. 
"We had to special order parts from other stores… and install them onto the vehicle at a reduced rate, the General Motors cost," said Herb Chambers Chevrolet service director, Matt Waldo.
During the strike, car dealerships for GM, which include Chevrolet, Buick, and GMC were not affected. Business was not damaged and the same number of cars were sold as usual for each branch of GM. 
Unions such as the UAW (United Automotive Workers) strike in order to receive better benefits than their current ones. The UAW went on strike after the collective bargaining agreement between the union and GM from 2015 expired. 
Many strikes occur over wages that laborers can't live off of, so in turn, they strike for better pay. Triton Voice interviewed Dr. Erik Champy, a current member of both the Massachusetts Teachers Association and the National Education Association, to get an inside scoop on unions in the U.S. 
"Significantly, wages have gone up for the wealthiest and the top one percent, and we've seen it stagger for the common mass," said Champy. 
About Two weeks into the strike, GM called for a mass repair on a large number of vehicles. The part that the dealerships needed in order to perform the repair, however, came from a warehouse that was previously shut down due to violence. The dealerships had to specially order the parts along with many parts for the majority of regular repairs from other locations, which cost more money, that they had to sell at prices lower prices. 
Despite all the money that GM lost during the strike (nearly $2 billion), they workers didn't gain the best possible benefits. According to an article on Vox.com, "Workers are guaranteed a 3 percent pay raise and 4 percent lump sum increase in alternating years." Their healthcare benefits stayed the same and permanent workers will now get an $11,000 signing bonus while temporary workers will receive $4,500.
What about Ford and Chrysler, the other American automakers? Now that GM workers have improved benefits, speculation over Ford and FCA (Fiat Chrysler Automobiles) striking has started. No one knows for sure whether the other two automakers will strike or not. The GM strike set the template for new benefits for union workers, and it only makes sense that Ford and FCA workers would want the same or similar benefits.
About the Writer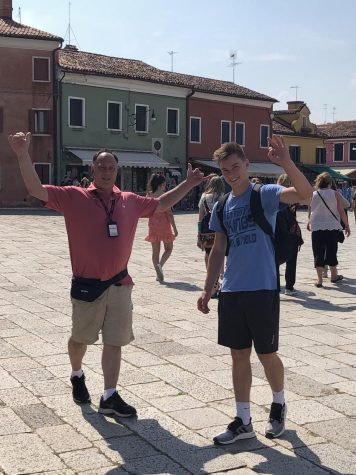 Derek Cotter, Staff writer
Hi! I'm Derek Cotter, a junior at Triton High School.

I like to run track, play the bass guitar, dirt bike, and work with my family at Cotter Brothers...