Senior Privileges at Triton High School
Students off campus eating lunch, students being able to leave during study; seniors relax in the lounge and not having to pay $180 for parking. This is what Triton High School was like 30 years ago but times have change.
If a student is interested in changing senior privileges, Mr. Patrick Kelley states that he is not opposed to ideas about senior privileges and that "students can come see either Mrs. [Kathryn] Dawe or myself about any senior privilege ideas as long as they bring up solutions to certain problems that may occur."
"
"Students can come see either Mrs. [Kathryn] Dawe or myself about any senior privilege ideas as long as they bring up solutions to certain problems that may occur." 
— Mr. Patrick Kelley
Kelley is the new high school principal and he intends for senior students to come to him to make the changes. He discussed some examples of senior privileges that would suffice. Kelley also talked about some problems that may arise with certain senior privileges. 
"I think that off-campus lunches aren't a bad idea, but I feel like it may promote some unsafe driving habits considering that there is only 25 minutes during the lunch period. By the time a student would get their lunch it would be time for them to go back to school." Kelley would let seniors go get their own lunch if it's wasn't a big liability issue for the schools safety.
Officer John Lucey, the school resource officer, brings up the term 'in loco parentis'. It's a Latin term that means, "in the place of a parent."
This "implies strong central authority of educational institutions, stating that schools take the role of parents when the students are placed under their care. The concept seems simple: the schools are supposed to act as parents when watching over their students." Told by The Columbia Undergraduate Law Review. Teachers at Triton are responsible for keeping an eye on the students because of the legal responsibility. 
"It isn't illegal to leave school, it's more of a liability issue. We're responsible to know where all students are and if a kid gets into an accident while trying to go back to school on time, the school is liable for the injury." Lucey also brings up that when he was a senior in Triton, students who worked outside of school were able to leave and attend their job if they had a study last period.
Mrs. Theresa Karol, one of the senior advisors, believes there should be more senior privileges to have the lower classmen more eager to become a senior. When Karol went to Triton as a student, there were more senior privileges than what there is now. 
"My class was one of the biggest reasons why there isn't as many senior privileges today," Karol says. "Lots of students would leave for lunch and come back, but they would rush and still be late. Three kids were even killed in front of Triton in the attempt to get back to school on time." 
Triton had the privilege to leave the school during lunch but more recently more kids have been getting seriously hurt due to car crashes. Students have also been speeding more because they try to make it to school on time after leaving. During school hours the school is responsible for each and every student.
Other schools around the area have more senior privileges than Triton. Charlotte Buswick, a senior at Masconomet School District discussed how she lives her high school life.
"We're allowed to leave school for lunch only if we have study last because if we have one class after lunch and it's a study, you can skip both." That's only one of Masco's senior privileges. Buswick admits she didn't know there were senior privileges at her school when she was a lower classmen until she became a senior. 
"We have a rotating schedule so if we have a study hall first period, we can come in late and then if we have a study last we can leave early." Says Buswick. "Also, we finish up our ap exams and then go on internship so we don't have regular classes fourth quarter." She feels as if she has more freedom as an upcoming graduate.
Though Triton may not have many senior privileges, the Halloween parade is only one out of the few privileges seniors have. Talking to Kelley or Dawe can help increase the chances of getting more senior privileges in the future.
View Comments(1)
About the Writer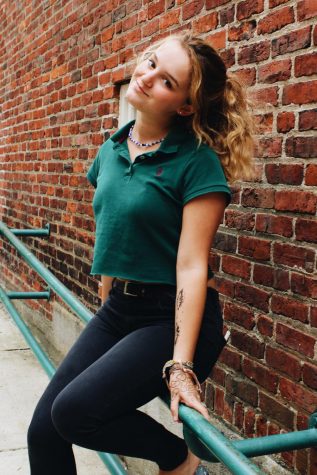 Amanda Ouellette, Staff Writer
Hi! My name is Amanda Ouellette. I'm a senior at Triton Regional High School. I enjoy photography, art, and dancing. I have an older sister who's 20...