Students with Big Dreams
Sophia Mailhoit, a senior at Triton, has a dream of becoming an actress in movies.
When Mailhoit was younger, she watched television and was interested of the actors and actresses on the screen. She immediately knew she wanted to become an actress. Once she got into high school and started her drama classes, she knew what path she wanted to take.
"I've always wanted to be an actress like ever since I was little," said Mailhoit, "I told my mom when I was 8, I wanted to be a Disney channel actress and she said, 'no, go to school.' So, I guess Disney channel was my inspiration to push me." Mailhoit has already applied for Boston Conservatory at Berklee and is looking at other schools in California. Students at Triton High School have big plans for their futures. There are lots of students at the school with different interests and passions that makes the school more interesting. Some students are open about their future goals that teachers and students find interesting. Actors and Actresses need good education to become big in the acting industry. As an actors reputation increases, they can be invited to work on bigger projects in the future. 
Special effects makeup can be a big part of acting. A junior at Triton named Brynn Rogers has worked with fx makeup for years and wants to continue her work once she graduates. Rogers always loved the idea of creating art on bodies for practice and entertainment, until she realized she could continue her artwork as a job one day. 
"I used to be so afraid of my own shadow when I was younger," Said Rogers, "Like, I couldn't watch anything that was ever so squeamish, and stuff like that. And then, as soon as I got older, I started watching more horror movies and I was so obsessed with the detail and the guts. I knew I wanted to be a part of it." She plans on making her way to California to learn more about fx makeup at the Cinema Makeup School located in the middle of Los Angeles. Rogers' already has an instagram account to show her special effects makeup to put herself out there more. She's been inspired the most from a youtube influencer named "Glam and Gore." The channel has three million subscribers and is full of tutorials of special effects makeup that provides helpful information for other makeup artists like Rogers.  
Cameren Jolivet, a senior at Triton, has been working on music production for years now. He creates songs with other students around the school and produce them on a music app called SoundCloud.
"I've made music with a few people around Triton and I'm always trying to expand my horizons and try new genres of music." Said Jolivet, "I'd love to find new people to work with and get what we both want accomplished." Jolivet enjoys creating beats on his free time, he finds songwriters and singers/rappers among Triton to make lyrics to go over his music. 
"I started making music three years ago, and ever since then, I knew I wanted to become a music producer," said Jolivet, "I was inspired mostly by Metro Boomin, 6ix and also Khaed." 
His dream of becoming a music producer comes slowly with lots of practice and education. Jolivet plans on finding a college with music production to learn more about music.
"I want to major in music production and possibly minor in general music studies." says Jolivet. "Like, Northern Essex Community College, or University of New Haven." His goal is to make his way to Hollywood and pursue his passion of becoming a well known music producer. 
Many students are capable of fulfilling their dream of becoming what they desire the most. Some students have ideas and big dreams they want to reach one day.
About the Writer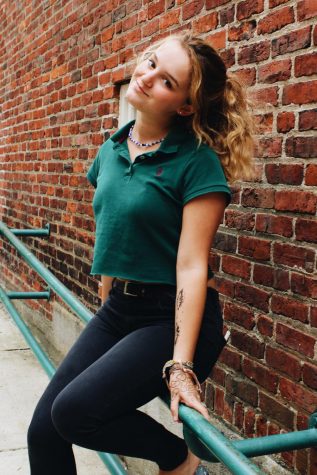 Amanda Ouellette, Staff Writer
Hi! My name is Amanda Ouellette. I'm a senior at Triton Regional High School. I enjoy photography, art, and dancing. I have an older sister who's 20...