How 'Forever' is Forever 21?
Clothing store popular among students files for bankruptcy
Senior Bonnie Durante likes to look nice. She's not super fancy but her outfits are always put together. However she said she thinks this may change due to issues with her favorite store, Forever 21.
"I think this will affect me quite a bit," said Durante. "I don't shop for clothes very often but whenever I do I go there because I can afford it." Durante, like many students, takes advantage of the low prices and variety at the store.
Popular clothing store, Forever 21,  filed for bankruptcy recently on Sunday September 29th. This is a huge blow for the company that has for so long prided itself on its cheap fashion. The clothing retailer is very popular among students here at Triton.
  "If I'm being honest I have no idea where I'm going to shop," said sophomore Tori Orender. Orender almost exclusively shops at Forever 21 and says the sales are about the only good thing to come out of the store's bankruptcy filing.
Bankruptcy filings are not as uncommon as they seem. According to the American Bankruptcy Institute there have been 4,127 commercial bankruptcy filings this year as of September 2019. So Forever 21 is not alone in its misfortune.
"It's sort of like a nail in the coffin of the retail industry because they were a big renter of space," said Richard Fisher, Business teacher at Triton. "They were big in malls, malls are struggling, and to take away a big tenant like that from the mall could be a bum for malls."
 It's true that malls are becoming less and less popular among consumers with the rise in online shopping. Without large retailers, like Forever 21, malls will be losing customers. As a result, smaller businesses in those malls could also suffer.
Business Insider estimates that 8,600 stores will close by the end of  2019. Among those stores are Payless Shoe Source which is closing 2,500 stores, Gap with 230 stores, Victoria's Secret with 53 stores, and Abercrombie and Fitch with 40 stores. 
"This will be like a Chapter 11 bankruptcy where you can reorganize and restructure and keep doing business," said Fisher. 
A Chapter 11 bankruptcy gives a company time to restructure their business in an attempt to keep themselves running. This is what Forever 21 is in the process of now. According to Fisher, the company will be removing products that aren't selling and closing stores outside of the US to try to achieve this goal and keep themselves open and running. 
Forever 21 has already said in a statement that they will stop all operations in 40 countries and will close 350 stores around the world. Luckily for dedicated shoppers, the company is not shutting down all its stores. They will be working now to make the remaining stores much more profitable and appealing to the consumer, or at least, that's the goal. 
"I'm going to have to pay $20 more for tube tops which is tragic," said senior Bridget Tucker. Hopefully for her and many other students here at Triton that won't be the case. However, whether Forever 21 is able to make a comeback remains to be seen.
About the Contributor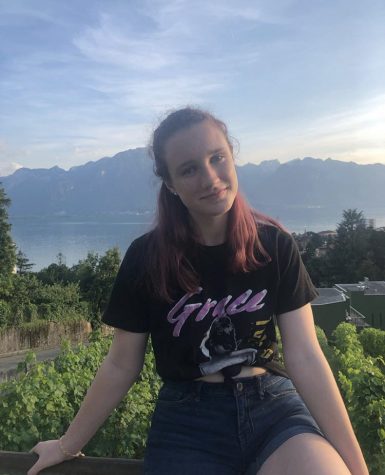 Marcella Hubbard-Brucher, Staff Writer
Hey! My name is Marcella Hubbard-Brucher. I'm a senior at Triton High School. Inside school I play the flute in the Concert Band and sing in the Singers....