47 Minutes and Four Steps that Changed the World
A Reflection on one of the Most Well Known Albums of All Time.
On September 26th, 1969, The Beatles released their 13th album Abbey Road. Now 50 years later, it is still topping the charts and changing the way we see music.
"It's hard to believe that Abbey Road still holds up after all these years. But then again it's a bloody cool album…" said Sir Paul McCartney on October 4th, on Twitter.
The two surviving Beatles, Sir Paul McCartney and Sir Ringo Starr, along with producer Giles Martin, (son of the late George Martin who was the original producer of the album), commemorated the anniversary with a re-release of the album, along with unheard demos and sessions of the albums most popular songs. 
The re-release gives an interesting insight into the making of one of the most important and revolutionary albums ever made. For both die-hard Beatles fans and casual listeners alike, we can now see for ourselves what went into making one of the most important albums of all time.
The band started off as a baby-faced boy band performing songs that mainly followed the pattern of the time. But as they aged the group grew together, and within the next 7 years they had totally changed the industry. The Beatles turned into the faces of the spirit of a new generation, no longer were they in neatly put together suits – but instead they were sporting long hair and scraggly beards. They had become the leaders of a spiritual movement, and when John Lennon was fatally shot in 1980, he became a martyr for peace during an era of war and violence.
The effects of Abbey Road run as deep as here at Triton. Whether it be our music programs, or the listening habits of our fellow Vikings, the effects of The Beatles are undeniable. Junior Bennett Leahy is an avid music enthusiast, and he spoke on just how important both The Beatles and Abbey Road truly were to music as a whole.
"It's [Abbey Road's] importance in pop-culture and music history is significant," said Leahy. ¨I mean, the Beatles were huge, huger than anything we could comprehend today. The Beatles got flack for saying they were "More popular than Jesus." The fact alone that a statement like that was not only said, but seriously considered a legitimate threat by religious people is evidence enough that the Beatles were bigger than we could ever imagine. ̈ 
Leahy is referring to a comment made by John Lennon in a 1966 interview where he said, "We're more popular than Jesus now. I don't know which will go first, rock 'n' roll or Christianity." A lot of the media took this quote out of context, and it led to public bonfires of Beatles records and memorabilia.
Later that year The Beatles stopped touring all together, despite this they still released six more chart topping records including Rolling Stones Magazine's number one album of all time, Sgt. Pepper's Lonely Hearts Club Band. 
The Beatles
Triton senior, and avid Beatles listener Bridget Tucker is conflicted when it comes to ranking the band. "I think there's definitely better. I mean, everyone knows at least one song from Abbey Road. Who hasn't heard Here Comes The Sun?" said Tucker. "There's a song for everyone on that album, with the huge variety of genres and songs on it."
Currently, of all of The Beatles' songs on Spotify their most streamed song is "Here Comes The Sun", totaling 374,159,548 plays. In its first week alone, the re-release made it back to the top of the British charts at number 1, and is number 3 on The Rolling Stones' top 200 albums chart of all time.
Both McCartney and Starr are still touring and performing songs from Abbey Road to this day, and they aren't playing to a small audience. McCartney's "Freshen Up" tour had 39 three-hour shows, almost all of which were nearly sold out.
"And in the end…", part of a famous quote from the final track of the album "The End", very famously says, the lasting effect of the album is undeniable. Statistics show "Beatlemania" is very much still alive, even 50 years later – and isn't showing any signs of slowing down. 
About the Contributors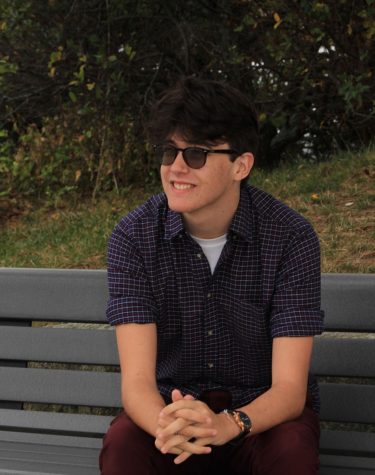 Timmy Timmons, Staff Writer
Hi, my name is Timmy Timmons, and I'm a Senior at Triton High School. Outside of school I am an avid photographer, and enjoy playing golf (most of the...