Triton's Newest One On One
Triton Regional Middle School's Newest Addition: Mr. Eric Lozzi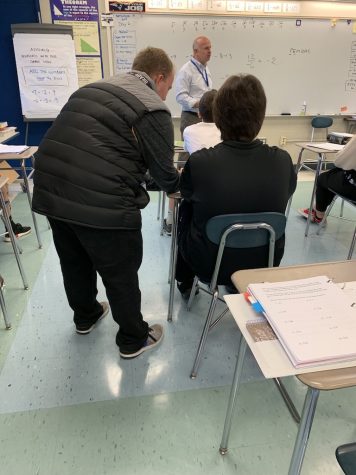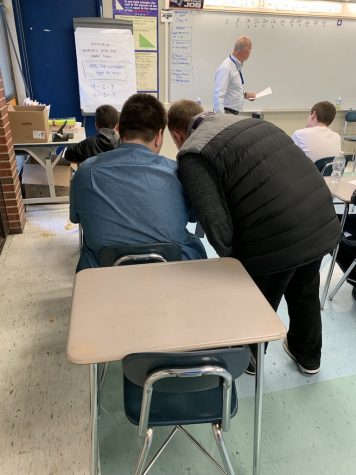 On the second floor of Triton Regional Middle School, Mr. Eric Lozzi leans over to help one of his students with a tricky math problem. As an instructional assistant, it is Lozzi's job to make sure his personal students are understanding the material being taught while learning in a conventional classroom setting. 
Lozzi's career choice, however, was not always teaching. 
While attending Plymouth State University under an athletic training major, Lozzi's professor influenced him to change his path from becoming an athletic trainer to a teacher. 
"The professor of my previous major sat down with me to talk about what my future would entail, and she said, 'I don't necessarily want to force you to do anything but I think you would work really well with kids,'" said Lozzi. 
By 2016, Lozzi had started teaching, right out of college.
Now on his fourth year of teaching, Lozzi has started a new position at Triton Regional Middle School as an instructional assistant for students with disabilities and students with special needs. 
Lozzi decided to apply to Triton after searching for a reputable school. He was inspired by the "good values" Triton has. Lozzi aspires to share and live up to these values. 
While teaching in school, Lozzi is "ambitious and willing to work hard," according to his mentor, Nancy Sweeney. Sweeney has been teaching at Triton for 18 years. She mentors "New Hires" in middle school and high school and gives them the rundown of how their program at Triton operates. 
"Eric is a smart kid and a hard worker. He is a lot younger than me but definitely is ambitious," said mentor, Sweeney.
Mentors play an invaluable role in a new teacher's success in their new job. Sweeney mentored Lozzi showing him the basics of Triton. According to data from TeachingNow, "86 percent of teachers with first-year mentors were still teaching, compared with 71 percent without mentors." This data clearly shows the effect a mentor truly has on a new teacher. A mentor is crucial to the success and future of teachers.
Lozzi is often seen working in Mr. James Gonsalves math classroom on the second level of the middle school. He is a representative for students with elevated needs and makes sure that they are understanding the material, Gonsalves said.
"He is well-spoken, educated, kind, uses good words, shows concern in his students, and is an all-around nice guy," said Gonsalves, one of the middle school math teachers. 
Gonsalves noticed Lozzi's ability and willingness to step up and do his job, as well as the fact that he did not sit back and watch. Lozzi is all hands on deck and enjoys what he does.

Lozzi personally enjoys working at Triton Middle School. 
"Everybody here is so friendly and welcoming… It makes me excited to come to work, " describes Lozzi. "It's huge when you can come to work and not have stressing over your head and being sort of miserable at your job. I put a smile on and have a great day every day. There are just no words for the feeling." 
Not only does he love his work as a teacher, but Lozzi's students are also incredibly important to him. 
One of Lozzi's biggest strengths is re-teaching class material in a smaller setting. 
"One of the greatest perks is for some of the kiddos to have a "lightbulb moment" when they finally understand after a re-teach," said Lozzi.
Another personal strength Lozzi pointed out is rapport building. Lozzi describes building rapport with his "kiddos" as knowing what they like, dislike, what their strengths and weaknesses are, and how and what to use to motivate them.
Gonsalves has high hopes for Lozzi and his teaching career. He wants Lozzi to eventually become a "full-time" teacher due to his "good skill and being great with kids". 
In his personal life, Lozzi is currently engaged to be married, and as his wedding day approaches, he works at Dick's Sporting Goods in Seabrook on the weekends to help pay for the finances of having a wedding. 
Lozzi enjoys spending time outdoors when not working at the school, or Dick's Sporting Goods. 
"My favorite thing to do outside of school is probably kayak," said Lozzi. " I love just being outside, especially when it's warm out, nothing better than kayaking on a pond or lake."
View Comments (1)
About the Contributor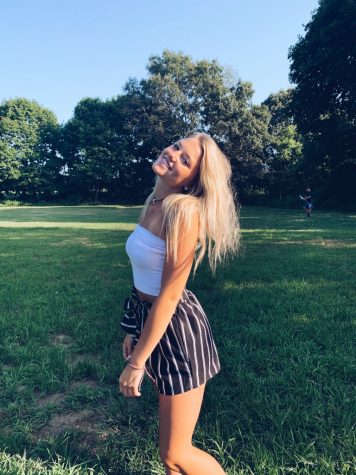 Holly Harris, Staff Writer
Hey! My name is Holly Harris. I am a junior at Triton High School. I play soccer for Triton, as well as softball and enjoy both sports. I work at the Market...