Triton Boys Lax
An update on the boys lacrosse team.
Hang on for a minute...we're trying to find some more stories you might like.
The Triton boys lacrosse team has been tearing it up this season, barreling their way to an impressive 7-4 record. The team has been clicking and producing in all positions from goalie to attackmen. With the season about half way through, the Triton Voice decided to catch up with a few of the lacrosse players and ask about their year.
The team has a young group of players, lead by seniors Capt. Connor Beevers, Capt. John D'Eufemia, and Tommy Girard, as well as junior Capt. Michael Beevers. James Tatro, a sophomore attackman on the team praised the older kids saying "The older kids on the team are great. They're constantly helping us younger guys to understand positioning on offense and defense when we're lost." Tatro has had an amazing year being one of the top scorers on the team with 27 goals.
With a 4-15 record in the 2018 season, hopes and expectations that the team would be successful were low. Under new head coach Jeffrey Comeau, the team has been able to prove those low expectations wrong.
"I didn't think it would go this well." said junior defenseman Jacob Thissel. "Last year was a tough year, but we've been able to step it up this year and do a lot better." After winning against Dedham on Saturday May 18th, the team's record is now 7-4, a lot better than last year.
Going into the 2018 season, the Vikings had lost all but two starters from the 2017 season, leaving a lot of room for new players. The 2018 season was the breakthrough year for John D'Eufemia, then a junior, as he now leads the team in points with 39.
"This year is different." says D'Eufemia. "I feel like we have so much more talent this year. With kids like Tatro, Bouley, and Girard. We're an offensive threat from everywhere." The team has combined for a total of 111 goals for, while the defense has been able to hold teams to a combined 89 points.
The defense is led by junior Capt. Mike Beevers, and includes juniors Thissel, sophomores Zach Liebert, and Danny Groder, and freshman Kyle Bouley. Behind the defense in net is senior Capt. Connor Beevers, who is backed by sophomore Hunter Parrot. Beevers has been playing solid this year with a save percentage of 51.7. Mike Beevers discussed what it's like being the captain of the team, saying "It's a great feeling knowing my teammates are looking up to me to lead them. I feel like it's my job to rally everybody together when it's needed, and that's pretty easy to do when people listen to you."
With their 7-4 record, Triton has high hopes that they will make the state tournament this year. Only needing to win 10 games to qualify for the tournament, the Vikings need three more wins. With games coming up against teams they had beaten previously in the season against Wilmington, Georgetown, and Whittier, the Vikings look to win again.
Senior attackman Tommy Girard is another top producer and leader for the team, earning 18 goals so far, including a four goal game against rival Newburyport. Girard was certain they'd make playoffs. "I knew from the beginning that we'd make it and I still think it now." said Girard. "It's just about 'when' we make it, not 'if' we make it."
About the Writer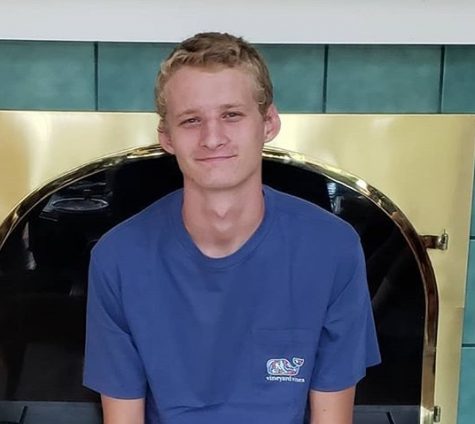 Connor Beevers, Staff Writer
My name's Connor Beevers, or Beevs to my friends. I am graduating the year 2019. I really enjoy writing about sports, only sports. Not physical activities...