Prom Shopping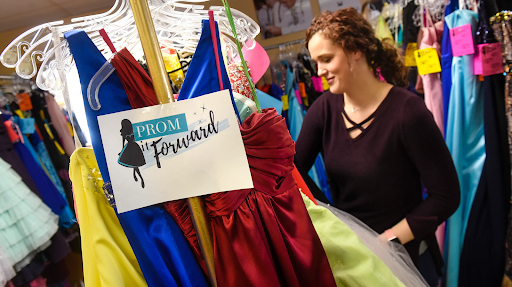 Are you caught up in the craziness of prom preparation? Have you found the dress or tux you've been looking for? Are we totally stressing you out?
For girls and boys at Triton High School, shopping for prom is two totally different, yet equally stressful experiences. Some guys rely on their date to pick a dress, then just base their decision off the color. This is a simple way, but some also really care about their tux and want to put on a show. Only rarely is it stress free for a girl to prepare for prom. From dresses to dates, girls always seem to have the most stressful time before prom.
Our sources asked Triton's boys questions on how they go about their prom shopping. "My mom pretty much does everything for me," says senior Jeremy Duford, "She just orders things and I try them on."
For guys, the main places to shop are Men's Wearhouse, Giblee's, Farley's, or online to find good deals. For gents it would be seemingly easier then for girls but that is not the case. The shopping experience is centered around what the date is wearing, the color scheme is usually up to her and the style of the tux needs to be picked out carefully so that both outfits compliment each other.
"It's all about her [what the girl wants] bro, like you can't just pick a tux and try to match the dress, it's her first then we just clean up," said Mitchell Hopkinson.
For some guys it doesn't matter as much, shopping is more of a one and done situation where they come out with a generic black tux and just a certain color tie. Senior Justin Dolloff is of that mindset. He takes almost no time to get ready and he doesn't really think it should take any longer.
"I don't know, it takes me like 15 minutes to get ready for work so I don't really see why it would take me longer for prom, maybe an hour to pick out a tux," said senior Justin Dolloff.
"Last year for Junior Prom, I had my heart set on wanting a pretty sparkly dress," says senior Gracie Burnim, "It was way more expensive. I'm happy with the dress I got, but for this year, I'm definitely going on the cheaper side, but I'll still have just as good of a time."
Girls have a variety of places to choose from for prom dresses; Glitterati, The Ultimate, David's Bridal, Tammy's Closet, Macy's, Lulu's, Windsor, and more. These places prices vary from very low to very high, but you can almost always find the right dress for you.
It's said that girls have a lot more to worry about than guys involving prom. While guys main priority is tux shopping, girls find themselves paying for not only dresses, but jewelry, hair, makeup, spray tans, manicures, shoes, sometimes even more. "The shopping is stressful and the expenses are even more stressful," says Senior Kelly Kozlowski.