Local Donut Rivalry
Despite Good Showing by Changing Tides, Angry Donuts Remains on Top 1. Angry Donut 2. Changing Tides Cafe 3. Heav'nly Donuts 4. Dunkin Donuts 5. 7 Eleven 6. Shaws
You're making your usual donut run to Dunkin Donuts before you go to school, but a thought comes across your mind, "are there any places around here to get donuts besides Dunkin Donuts?" Surprisingly there are many donut places in Massachusetts besides Dunkin Donuts and I went on the search for the best one.
I started off with Angry donut on 38 Washington St in Newburyport. Walking into the donut shop, it was very petite and a little cramped, but their selection of donuts and different baked goods and coffee was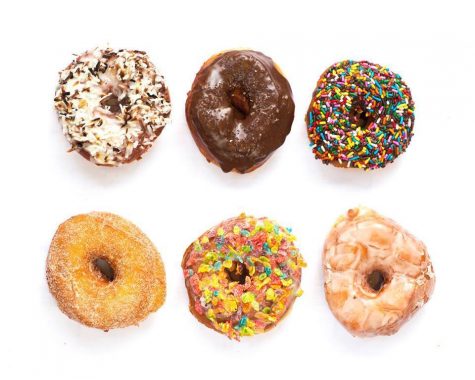 vast. They had brioche dough, donuts ranging from salted dark chocolate, to a simple glazed donut and baked goods consisting of gooey cinnamon buns to crumbly scones. This was by far the most expensive donut bakery with a cost of $4.00 a donut, which is pricey. The donut I decided to try was their famous fruity pebble donut. This is probably their most unique donut. It was quite large, very airy and fluffy, and it did not disappoint with tasting exactly like fruity pebbles. I would give this donut an overall 9/10 rating, you can't go wrong with any of their donuts, they do not disappoint.
After going to Angry Donut, I basically went right across the street to a donut and coffee shop that just opened February 28th called, Changing Tides Cafe & Donut Shop. They are located on 92 Pleasant St in Newburyport, MA and definitely put up some competition for the Angry Donut. As I walked through the doors, it was very open and welcoming and had multiple places to sit and enjoy a coffee and donut. I noticed they had a coffee bar inside, which is quite unique for a donut shop, and they make the donut right in front of you, hot and fresh. The type of dough they use for their donuts is a yeast dough. What I found really cool about this donut shop is that you can customize your own donut however you like it, or you can just stick to the pre made ones, but where's the fun in that? Donuts cost $2.40 each, so I bought a cinnamon and sugar donut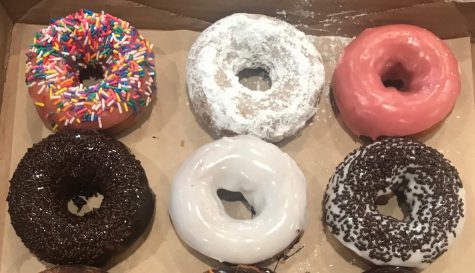 and a chocolate frosted from there. They also sell freshly made soft, salty pretzels and muffins as well as more baked goods. Biting into the cinnamon and sugar it was super crumbly and quite crispy, yet it had this spongey airy texture that was really tasty. The dough was buttery, and the outside had a great cinnamon flavor with a hint of nutmeg, but not a lot of sweetness. Overall I'd rate the cinnamon sugar donut a 7/10, I wasn't much of a fan of how crumbly and not sweet this donut was. Trying the chocolate frosted, the first thing I noticed is that the chocolate was super rich and the perfect amount of sweet. This donut was also pretty crispy, which quite honestly I'm not too big of a fan of. It didn't crumble like the cinnamon sugar and had more of a bouncy texture to it. I would rate this donut an 8/10. I definitely recommend stopping into Changing Tides Cafe.
Next was Heav'nly Donuts in Amesbury, MA, on 60 Haverhill Rd. Going into Heav'nly donuts sort of reminded me of a McDonalds for donuts. They had a mass selection of donuts which was quite overwhelming, but they also had baked goods such as bagels, breakfast sandwiches, pastries and muffins and of course coffee. Heav'nly is pretty cheap for donuts, with a cost of $1.25 per donut. The donuts I tried from Heav'nly were a classic chocolate sprinkled and a red velvet donut.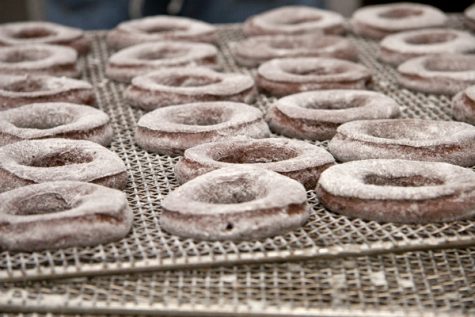 The chocolate sprinkled donut I had high expectations for. It looked amazing and had an even coat of chocolate glaze and the perfect amount of sprinkles for a donut and looked delicious. I was quite disappointed after eating it. It was super sweet, very doughy, and there really wasn't a great amount of chocolate flavor just a really sugary glaze. I decided to try the red velvet donut to see if I would still be disappointed and to my surprise, I was pleased after eating it. It was fluffy, not too sweet and the red velvet was velvety and smooth tasting. At Heav'nly it definitely depends on what donut you get, I would rate the chocolate sprinkled donut a 4/10 and the red velvet donut an 8/10.
After Heav'nly I made my way over to the notorious Dunkin Donuts. Dunks is your easy way of getting donuts, fast. The donuts at Dunks cost $1.19, each making it the cheapest place to buy donuts. I bought the classic glazed donut and their chocolate glazed. The glazed was a little sticky due to room temperature, the dough was fluffy and moist and just the right amount of sweet. I would rate their glazed donut a 7.5/10, it was a pretty exceptional glazed donut, there are better glazed donuts out there though. The chocolate glaze is always going to be one of my guilty pleasures, it was moist, sweet and chocolatey. Rating this donut I would give it an 8/10, I could definitely eat five of these and be completely content. The only problem I have with Dunkin's donuts is that they taste a little waxy and sometimes leave an odd waxy residue at the top of your mouth.
The next place I decided to go to is a place you wouldn't really think of buying donuts: Shaw's in the Newburyport plaza. I went into the bakery section of Shaws where all of the cookies and muffins and cakes are located and found there were four shelves dedicated to donuts, muffins and cinnamon buns. The cost per donut at Shaws is $1.89, which is okay pricing for a donut. I bought a chocolate cake donut and a classic glazed. Biting into the chocolate cake donut it was really dense, had a really harsh cocoa powder taste to it and was quite bland and not really sweet at all. I'd rate this donut 2/10. It really had an awful taste to it, but the glaze on top of it made it .05% better. The glazed donut was super sticky, had an odd taste of plastic to it and was very flakey and dry, I'd rate this donut a 1/10, not a good donut. Overall I wouldn't recommend donuts from Shaws.
The last place I decided to go to for donuts was the 7- Eleven in the Newburyport Plaza. Going into the 7-Eleven I really didn't have high expectations for 7-Eleven. I wasn't impressed about the price for a seven eleven donut costing $2.55 a donut. I only bought a glazed from here, and honestly it looked really good, having an even coat of a smooth glaze. Biting into it, it had the texture of white bread, but smothered in sugar. It was also oddly chewy, which I wasn't a fan of. I would rate this donut a 5/10. It was okay, not something I would rush back to 7-Eleven for. If you weren't near a Dunkin Donuts (which its quite hard to avoid a Dunks in Massachusetts) or any other donut shop, 7-Eleven could definitely be an option to quickly satisfy a donut craving.
After consuming a lot of donuts and feeling ill for four hours, the best place to get really good donuts is the Angry Donut in Newburyport. Though they may be pricey, the size, taste and appearance of the donut really makes up for the price. If you are in a rush though and are trying to keep it cheap, Dunkin is the way to go. You really can't go wrong with Dunks.
About the Contributor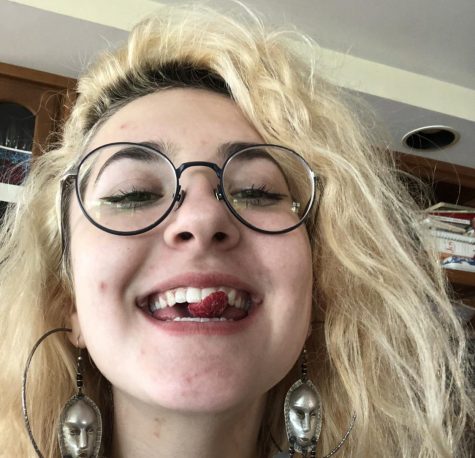 Lydia Crowley, Staff Writer
Heyo! My name is Lydia Crowley! I am a senior at Triton Regional High School and I enjoy covering new and intriguing topics for the Triton Voice! In my...