Homecoming Preview
A look ahead at the festivities of Homecoming
Hang on for a minute...we're trying to find some more stories you might like.
Homecoming at Triton is finally here. Students get together to prepare decorations for skits, compete in games against the other grades, and dress up to earn points to be crowned Homecoming Champions.
Starting on November 13th seniors, juniors, sophomores, and freshmen will be competing in events like Penny Wars, where classes put together change to earn the most points.(One point per penny, minus one point for other coins) There are also events like Movie Night or the Hypnotist. Movie Night, taking place Wednesday the 14th, is hosted by the senior class. There will be snacks to buy, but the admission price is free for the movie "Aladdin". The Hypnotist is an after school event on Tuesday the 20th. Volunteers are selected from the students and are brought up to the stage to entertain the audience.
One of the larger parts of Homecoming is the dress-up days. Senior Bella Lesinski discussed which theme she is most excited to see, "Either USA day or theme color because everybody goes all out for USA day, and we'll all be able to wear our senior shirts on theme color day."
While most dress-up themes stay similar throughout the years, Flannel Friday is no longer on this year's lineup, being replaced by camouflage day.  Lesinski wasn't a fan of this change, saying "I'm kind of bummed. Flannels are pretty comfy, and they have cool colors."
The main highlight of Homecoming is the last day, Wednesday the 21st, when the games are played between classes. The seniors and freshmen go against each other while the juniors play the sophomores in the first round, followed by the winners playing to see who is number one. Classes face off in games like volleyball, crab soccer, and tug-o-war. Sophomore class officer Emily Johnson said she is participating in crab soccer, but she was more excited to watch the volleyball game saying "The kids playing in it always get really into the game and compete hard."
Before the games on Wednesday, classes put on little skits for the rest of the school and a few judges. Each classes skit is based around their theme, with seniors having Aladdin, juniors with Finding Nemo, sophomores with Shrek, and the freshman having Frozen. Senior Josh Lind says he is excited for the class skits, especially the senior class skit "I really like the Aladdin movie, so I'm excited to see my class perform our skit."
About the Writer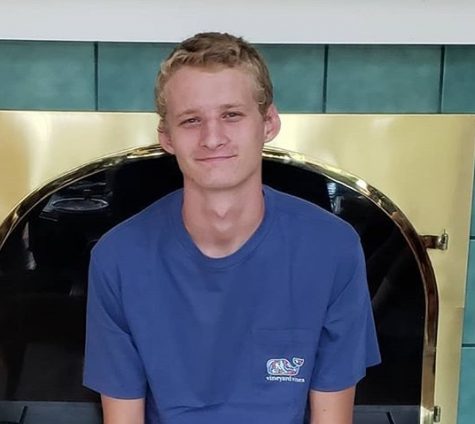 Connor Beevers, Staff Writer
My name's Connor Beevers, or Beevs to my friends. I am graduating the year 2019. I really enjoy writing about sports, only sports. Not physical activities...