Occupation Observation
Some students find that school work isn't enough, here's a few who want more to do.
Hang on for a minute...we're trying to find some more stories you might like.
Michael Fish is a senior at Triton, currently employed at David's Fish Market in Salisbury. When asked about what he thinks of his job he said, "I like it there. It's very flexible with my own schedule. I'm paid minimum wage but that's good for the difficulty of my work. It's a great work environment." Although he is a fan of his job, he says it's not all good, "I always smell terrible when I get home from a shift. One time I was coming home and my mom sprayed me with a hose because I smelt so bad."
Jobs like restaurants have benefits such as free or discounted food, but they also have drawbacks such as low pay for certain employees. The story of a busser is different from that of a store employee, as well as having reasons to like or dislike their current, or former, occupation. This article dives into a few of those reasons.
Senior Joe Doucot discussed his experiences with the different jobs he has worked. Doucot has worked at Tendercrop Farm as a butcher, landscaping, the Deck as a dishwasher, and currently at Knowles Gas Station pumping gas. When asked about which one he liked the most, he said he likes working at the Deck, "The Deck pays very well,($15 for dishwasher) and they take good care of workers with perks like a free meal for dishwashers. It was a lot of work, but there was always people there for help if I ever needed it." Doucot also said he likes working at Knowles gas station. "Knowles is a laid back job, not a lot of work. Plus I get a tab on my gas for the week."  
While he liked these jobs, Doucot wasn't big on being a butcher at Tendercrop, "It was a lot of heavy lifting, and I was constantly covered in blood and fat. The pay wasn't too good either."
Jack Niska, a junior at Triton, is working a seasonal job at Perley's Marina in Rowley. "I work during the end of spring into the beginning of fall, the warm seasons." Niska, when asked about if he likes it said, "I love it. My coworkers and customers are all really nice and love having conversations. It's also not too hard, I bring people to docks on a small boat so they can get on their boat."
Another person who works with boats is senior Sam Rennick. Rennick works at Hudson's in Salisbury during the summer. "It's alright working there, long shifts in the hot sun doing things like cutting grass and cleaning boats. It pays pretty well and my boss is a great guy." said Rennick.
One major employment site for students at Triton is the Market Basket chain, with stores located in Newburyport, Rowley, and Seabrook. Senior Josh Lind works at the Market Basket in Rowley. "It gives me something to do, and a lot of Triton students work there too so I get to see my friends." said
Lind. He has a lot of friends that work there saying, "there's at least like, 20 kids from Triton." A new employee at the Market Basket in Rowley or Newburyport can earn at least $11 per hour, along with $16.50 on Sundays.
Students who need jobs should have no trouble finding a job for the school year or the summer. There are so many places for somebody searching for nice places to work with friends. Locations like Market Basket, or the Deck are great local places that have many fellow students working.
About the Writer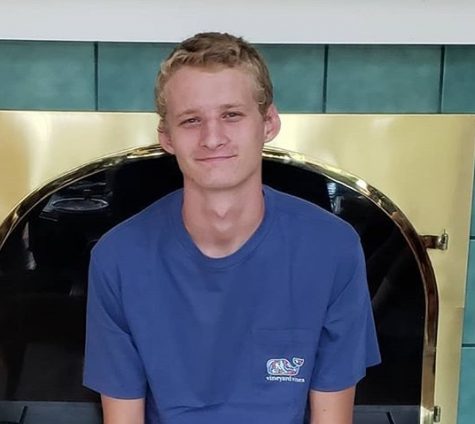 Connor Beevers, Staff Writer
My name's Connor Beevers, or Beevs to my friends. I am graduating the year 2019. I really enjoy writing about sports, only sports. Not physical activities...