A Change of Prerequisites
The graduation requirement changes at Triton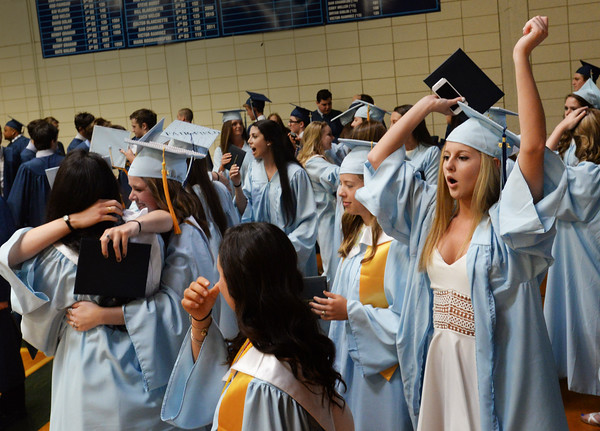 Triton's graduation requirements will be implemented this year a process that has been in the works since 2016.
The changes include an increase in total credits as well as a requirement to take biology.
These changes have been in effect for classes coming into Triton since 2016 after being approved by the School Committee. The change is the increase of total credits needed to graduate from 21 carnegie units to 22. However, most Triton students are not going to be impacted by this change as most students easily earn a minimum of 22 credits by the end of their senior years. Another change that has been made is the formalization that students must take biology their freshman year.
"I honestly felt like they were all pretty logical and made a lot of sense. Many of them are ones that we knew that students were already meeting," said Mrs. Megan Ober, director of guidance. "So it just kind of made sense to change the policy to match what was already in practice."
The changes began with Triton's School Council who proposed these changes in late 2015 and early 2016. These were approved the following spring. The last time changes had been made regarding graduation requirements was in the years 2007-2008 when class credits were condensed from five units per course to a single carnegie unit per course. "the school council is a group of parents, teachers and students and they all work on the school improvement plan, the budget of the school and they offer suggestions on running the school." said Principle Ms. Kathryn Dawe. "Six years ago, it came up as a topic at the school council in terms of what we expect kids to be able to do when they graduate from high school. In that conversation it came up with the number of credits: what would it look like if we upped the graduation requirements."
Since the newest system was approved in 2016, it has affected each class coming into the school starting with the class of 2020 in the 2016-2017 school year. This is because changes such as these could potentially have detrimental effects on those who had come into the school prior, and a sudden change to their graduation requirements. However, not all the proposed changes were able to make it into the final version of the requirements.
"We definitely proposed some other ones that didn't go through, in part because of funding," Ober said. "One piece that the school council proposed when graduation changes were initially brought up was to require some sort of health class, because we don't have any health classes."
The decision to implement these changes came with the idea to formalize existing practices and hold Triton students to a higher standard. In the case of requiring biology it was already a mandatory class by practice because of its importance in the other science courses as a prerequisite. The changes to total credits required was viewed as both important and helpful to students.
"I think that to continue offering more opportunities for out students to excel academically and to continue to hold them to the high demands of academia are very important," said guidance counselor Dr. Erik Champy. "Because it is all about preparedness as we send you off at the end of your senior years to continue with your career."