Profile: Flag Football Referees
Stories from SYFFL Referees
Hang on for a minute...we're trying to find some more stories you might like.
Proudly wearing their stripes, flaunting their whistle and flags, and throwing out angry elderly people are all common occurrences for SYFFL referees.
Salisbury Youth Flag Football League is an organization made to provide exactly what its name suggests, a youth flag football league in Salisbury. Established in 2007, hundreds of kids compete each year at a local level, in Amesbury, Pentucket, Newburyport, and other local towns. Small Teams, ranging from 5 – 13 kids, are drafted in respect to their hometown, taking on NFL names and logos, such as The Patriots or The 49ers. During the two seasons the sport is played, fall and spring, every Saturday is game day and games are held from as early as 8 in the morning all the way to 7 at night.
Early in the organization's development, Owner Jeff Johnson realized there would be minimal people capable of running these football games, so a few respected players were chosen to ref games. Since then, the trend has continued, employing respectable players to officiate for the league and manage games.
One of the first generation referees, Sage Duford, loved working for SYFFL.
"I liked being a part of the community as a ref. All of the kids would look up to you." Duford said.
The typical referee day starts with arriving fifteen minutes prior to the first game. The first referee to arrive for work on a specific field has to set up that field for the games, including setting the scoreboard and placing the pylons. Referees are responsible to get the teams ready and on the field for the coin toss, ensuring the team captains are cooperative and ready to play. Reffing is easy most of the time. It's just rules, flags, and some penalties here and there.
"There's not really anything I don't like." Says Referee Connor Beevers.
To make sure Referees know what they are doing, each season they must take a test and score a 90% or above to pass. The test is similar each year, consisting of around 60 questions. The questions ask about different penalties, rules, and regulations. The uniform requirement that officials must meet include black pants, black socks, black or white undershirt, and a black and white striped shirt.
The times when reffing is more difficult usually stirs when there is a confrontation on the field or an argument about a call. Even though referees frequently create friendships with the players and coaches they ref, the surprising amount of tension created during flag football games can cause emotions to show.
"Kids are great, parents are a pain." Says Head Referee, Sam Rennick.
Fights between players and coaches have broken out, cursing matches have happened between angry dads. There has even been dramatic situations where the entire sidelines and fan sections have been ejected.
"It annoys me alot when the parents start to try to get involved with my calls." says Beevers
One referee describes ejecting a group of angry fans that were angry about a touchdown call in the 7-8 year old division. One fan in that group, an elderly grandmother, called the official "stupid" and was immediately kicked off of the field.
Another referee describes a fight between two players in the Mustang, 13-15, division where the larger boy ran the other player over "like a truck," causing a massive scene between players and fans.
Former referee Nathan Cornoni shared his thoughts on this type of behavior. "I use to play in the league so this is something you expect to see. Just because its flag football doesn't mean there's no contact."
Refereeing has always been a tough, high pressure job, and the situations these teen officials face show the maturity of kids in the Triton District. With the leagues ever changing rules, more and more disputes will be happening, creating more friendships and fights. This saturday at Salisbury Elementary School, you can see the referees work in over 20 games.
About the Writer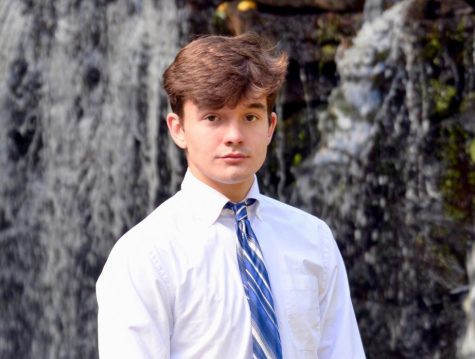 Jeremy Duford, Staff writer
Jeremy Duford, senior at Triton, decided to join journalism to report on all the various drama and news he's felt enveloped in over the past three years....