'Alexa…How do you define privacy?'
Research into the privacy concerns of the hottest new product Amazon Echo
Hang on for a minute...we're trying to find some more stories you might like.
We as a society have always pondered the futuristic possibility of personal robot assistants to respond to our every command.
Now, the future has arrived, and its name is Alexa. Alexa is the name of Amazon's Echo, a voice-controlled personal assistant, that was released back in November of 2014. Unlike rivals such as Apple's Siri, Microsoft's Cortana and Google Now, Alexa is a physical presence. Amazon's original design: a 20cm-tall black cylinder, about the size of two Coke cans, containing Wi-Fi, two speakers, and seven microphones that connect directly to the cloud, is one of five Alexa-operated products. These include Echo Dot, Echo, Echo Plus, Echo Show and Echo Spot. They all vary in sizes and equipment; some have built-in cameras, while others have touch screen displays to show videos. But as these products become more common among households, the concern for
privacy has emerged as the primary issue. "…It makes the simpler things easier and you don't have to get out your
phone. You can just talk into it," explains high school senior Rachel Lees. When you say "Alexa", the 'wake word', the cylinder top glows blue and speaks with a silky female voice. It can stream music or radio, supply sports scores and traffic conditions, buy stuff online and answer questions, the tone ranging from business-like to playful. The number of teaspoons in a tablespoon? "Three." Tom Brady's height? "6 feet 4 inches; 1.9 meters." Does Santa Claus exist? "I don't know him personally, but I hear a lot of good things. If I ever meet him I'll tell you." Tell me something interesting: "In space, astronauts almost never snore, because without gravity their airways don't get blocked in the same way as on Earth."
As humorous as Alexa can be, she also presents an unwanted privacy breach for some. Lees pointed out: "I think it's kind of creepy because its always listening and I think there are some conversations that I have in my house that I wouldn't want the world to know." But does Amazon's Echo products actually record and store information? Yes, in fact directly enclosed in Amazon's Terms of Use (Section 1.3 'Alexa Interactions') it states: "…Alexa streams audio to the cloud when you interact with Alexa. Amazon processes and retains your Alexa Interactions, such as your voice inputs, music playlists, and your Alexa to-do and shopping lists, in the cloud to provide and improve our services." So it should be of no surprise to the user that Amazon has the full capability to use the information gathered by this device. However, the more important question becomes intentions of the data usage. With the intentions of selling more products and advertising more effectively, companies like Amazon and Google ultimately invest in these products for the sake of increasing profits. Yet, how come anti-terrorism agencies like the NSA, FBI, CIA etc. do not have access to the data collected? If the public allows private industry to take advantage of this new technology, why not allow government agencies to use it in the interest of our national security. Part of the answer is because the majority of the public has a lack of trust in government agencies peering into our daily lives. "…if you're not doing anything bad, you shouldn't have to worry," claimed Triton Senior Owen Heffernan, in response to public fear of these devices. "If I had an Alexa device in my home, it would be just another one of the gadgets," said senior Henrik Ernst. "It might feel a little uncomfortable if she just starts talking to me out of the blue, because I'm not really used to that, but if someone got me one as a gift I would appreciate it and see what it has to offer. The advancement in this kind of technology shadows how we're doing as a society, by making faster technology making things easier and simpler to use."
About the Writer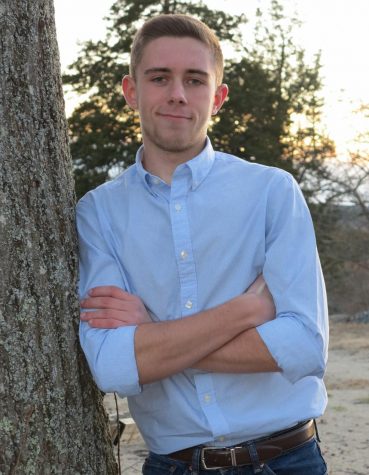 Steve Baiardi, Staff Writer
Steve Baiardi is a senior staff writer at Triton high school. This is his first year writing for the Triton Voice. He likes to cover the senior class,...