Fadagonias
Student opinions and facts behind one of 2017's biggest fads
Hang on for a minute...we're trying to find some more stories you might like.
"Patagonias are very high quality. And, do you know what I like about them? They give back to third world countries when you buy one of their products," said gym teacher Donna Andersen. "They're warm, they're comfortable, you know what, you get what you pay for."
For the past few years, the brand Patagonia has become more and more popular for students and some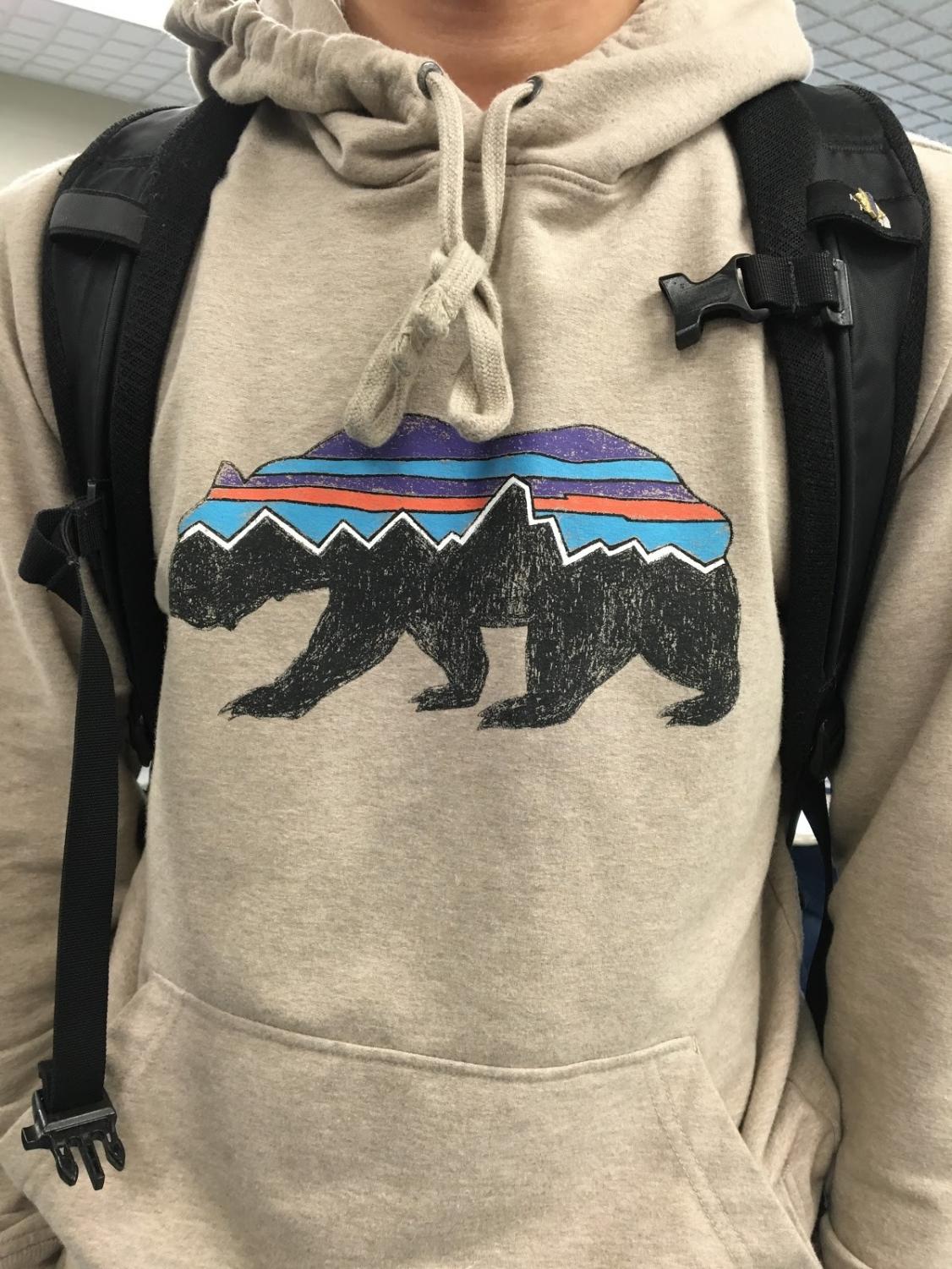 staff members daily wear at Triton. Although the Patagonia company began with a  mission statement to "build the best product, cause no unnecessary harm, use business to inspire and implement solutions to the environmental crisis," Patagonia.com, Patagonias have rather become a fashion statement and an item appearing on many Triton students' wish lists this holiday season, and it is not for any environmental crisis.
So what is a Patagonia? The brand itself expands into many categories beginning with men's, women's, and kids' & baby. Then, within those categories, there is a variety of jackets, shirts, footwear, and other accessory wear. What appears to be the most popular item at Triton is the Patagonia Lightweight Synchilla Snap-T Fleece Pullover. At a price of $119, the fleece is offered in fourteen colors and patterns. Eighty-five percent of the material that it is made of has been recycled. Patagonia's description of the product states: "Hiking from Cache Creek to Granite in a single day will break you down, and then rebuild you. It's the kind of undertaking that the Patagonia Synchilla Snap-T Pullover was made for," Patagonia.com (or the undertaking of the short walk from math to English). Patagonias are constructed from breathable midweight polyester, classic double-sided fleece pullover transforms trash into cozy, layerable warmth. It comes in an assortment of bright solids and color blocks, and features the signature 4-snap placket, stand-up collar reinforced with nylon trim, a chest pocket with nylon flap and snap closure, plus spandex binding at sleeve opening and hem. The Patagonia certainly was produced for weather conditions, but Triton students have found it as a comfortable item for a normal day in New England as well.
What do Tritonians think of the Patagonias that many students flaunt in the fall and winter seasons? The Triton Voice sat down with a number of students and staff to ask their first-hand opinions on the fad.
Some students raved about their Patagonias, including senior Cole Lojek. "Patagonia's are worth it because you have a lifetime warranty," said Lojek. Lojek owns one jacket from Patagonia that he received as a gift. The Triton Voice even talked to a staff member whose attire is everything Patagonia and may also be the record holder for owning the most Patagonias known to man. "I have too many to count, it's not important, it's embarrassing," said Andersen. Although she believed her collection to be embarrassing, Andersen still praises the comfort, quality, and the giving back aspects of the brand.
However, some students and teachers believe that this fad is overrated or really have no idea what Patagonia's are. "I️ own no Patagonia's. It's clothing of some kind but I️ have no idea what it is. Does that surprise any of you?" said history teacher Dan Boyle.
Although the Patagonia logo is consantly flashing through the hallways and classrooms, some students say Pa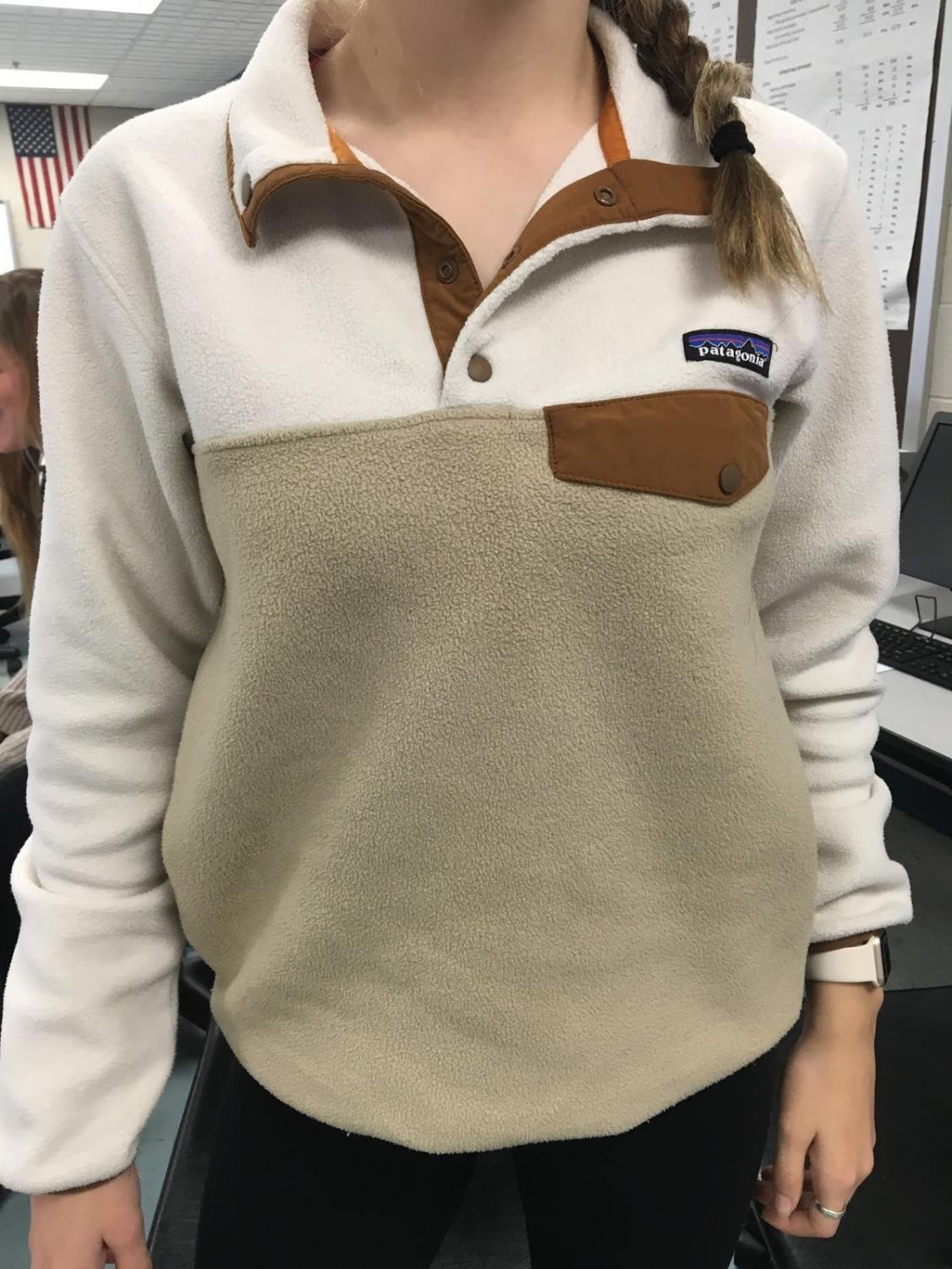 tagonia is too pricy and you can get better clothing elsewhere. "I️ actually think Patagonia is going out of style," said senior Tommy Lapham. " It's too expensive and there are stores with better quality for a lower price. I️ own two or three Patagonia's and they were all gifts. If you want good stuff, go to L.L. Bean." Some students even said that Patagonias just don't fit they way they would like them to. "I️ was gonna invest but I️ didn't. I️ like my hoodies loose and Patagonia's are too tight and they're knit. Vineyard Vines is better," said senior Evan McParland.
According to Patagonia.com, "Patagonia is a designer of outdoor clothing and gear for the silent sports: climbing, surfing, skiing and snowboarding, fly fishing, and trail running." Although the brand is supposed to be appealing to those who enjoy outdoor activities, one of Triton's favorite fisherman does not even own one. "I️ have nothing to say about Patagonias. I️ would rather wear fishing shirts," said senior Liam Gay-Killeen.
So why do so many Triton students and staff own a Patagonia although it is known to be "overrated?" The Patagonia may be comfortable but it is definitely the name brand and style that really appeals to the students and staff at Triton. Similarly to Patagonias, another name brand like Nike is only worn for the swoosh and style popularity. Most Nike sneakers are truly not meant for running for its lack of support, but the name brand is what makes it such a fad.
The Triton Voice asked a number of students and staff members how many Patagonias they owned to see how large some students collections truly are.
Coach Donna Andersen – too many to count                   – Haley Morgan – 6

Marlee Smith – 4                                                              – Katie McDonough – 2

Henrik Ernst – 2                                                               – Sydney Accomando – 1

Rachel Lees – 1                                                                – Liam Gay-Killeen – 0

Steve Baiardi – 2                                                              – Owen Heffernan – 4

Lynn Wideberg – 4                                                           – Cole Lojek – 1

Erin Drew – 2                                                                   – Ross Lojek – 0

Gabrielle Lowry – 1                                                         – Cam Willey – 5

Mr. Boyle – 0   
Despite the conflicting opinions by staff and students about Patagonias, there is no doubt that many students and staff members will be receiving them as gifts this holiday season. Whether it be new fleeces, backpacks, or even the now popular Patagonia hats, the Patagonia fad is far from over.