EXPLOSION 
5 injured, 1 dead, in a explosion at a pharmaceutical company in Newburyport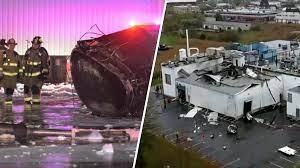 A massive explosion rocked the surrounding areas of Newburyport's industrial avenue, spewing metal and other debris up to thirty feet from the impact site at approximately 12:45 p.m. on Wednesday, May 3.
         According to press releases of the Newburyport Fire Department: At midnight May 3rd, 911 operators were alerted to an explosion on 9 Opportunity Way. Upon arrival fire crews took note of an Industrial sized- vat from inside the building that had moved, 30 feet into the adjacent parking lot.  As well as the heavy fire and smoke that emitted from the explosion site.  The building suffered extensive structural damage, preventing first responders from entering the building and performing an extensive search. 
        At the time of the explosion, five workers were inside the building, four of whom were taken, treated, and released at a local hospital. Eventually on Thursday May 5th the Newburyport Fire Department and its mutual partners recovered the missing body of the fifth worker. 
        One Triton student, Freshman Jason Merrill, has his family business right next to where the pharmaceutical company was. " I didn't hear the explosion, but when I went outside there was debris all over the lawn, as well as what they thought ( Newburyport Fire Department) was the cover of the tank " 
        Over 12 towns assisted in the cleanup including: Ipswich, Salisbury, Newbury, Seabrook, West Newbury, Georgetown, Groveland, Haverhill, Rowley, Hampton, N.H., and North Hampton, N.H. Fire Departments.
        Mutual aid was provided by State Fire Marshal Peter Ostroskey, East Kingston, N.H. Fire Chief Ed Warren, Amesbury Fire Chief Jim Nolan, and Deputy Chief David Mather.
        Newburyport Fire Officials would like to emphasize that there is "no danger to the public" any longer. 
        By Monday, May 8th, hazardous materials technicians and crews remained on scene, removing the final eight 55-gallon drums of chemicals, and draining approximately 2,000 gallons of chemicals from chemical reactors at the plant.
        Fire Chief Stephen H. Bradbury III reports that the first of two large chemical storage containers was fully drained late Tuesday, with plans to drain the second/final tank beginning at 8 a.m. Wednesday. The chemical removal process will be taken over by a private contractor service, which will be oversighted by the Newburyport Fire Department.
        On May 10th the Newburyport Fire Department turned over the scene to the Newburyport Building Department, where a private demolition crew was expected to begin disassembly of the steel building Thursday afternoon, May 18. 
Leave a Comment