Keshi Concert
When you got close to the front of the line if you're a minor they put an x on your hand to indicate you're a minor since they sell alcoholic beverages in the venue. Then you'd walk inside and they'd scan your ticket then they'd check your bags and you'd walk through the security check. The merch booth is to the right and the floor, stage, and upstairs seating is right in front of you. The pit was absolutely packed and people are anxiously waiting for the concert, the Keshi "Hell & Back Tour" at Roadrunner, Boston, to start. 
After waiting around 10 minutes the lights turn off and the opening act, Weston Estate, came onto the stage. They immediately start performing and everyone had their phone out recording. 
"It was surreal it was the second concert I'd ever been to and getting there was a little trouble but it was worth it. When we got in I was really surprised at his vocals 'cause they were incredible and his stage presence was really really good," said Jessica Rocha about Keshi.
Keshi, whose real name is Casey Luong, is an American singer. He is 28 years old and was born in Houston Texas. He first started his career on SoundCloud, as many aspiring artists do, in 2017. His music varies from hip-hop to  Lo-Fi, and to R&B. He's signed with Island Records a company that also represents Bon Jovi, Demi Lovato, Sabrina Carpenter, and Shawn Mendes. 
He was first a registered nurse before he rose to fame. He would make music in his own time but when his songs started accumulating millions of streams he became a full-time artist. After gaining recognition and making many popular songs like Limbo, drunk, skeletons, and Like I need U, he finally went on tour. He started with an All Asia Tour and toured in the U.S. He came to Roadrunner, Boston on March 14th with opening act Weston Estate. 
Driving to the venue at around 7:30 p.m. March 14, the line when we arrived wrapped around two blocks, with rain, snow, and wind blowing in our faces and pouring down on our heads. There were some Triotn students who also went like students Jason Ly and Jessica Rocha. Rocha gave us her opinion on the concert and what the wait to get inside felt like to her. 
" It was freezing but I just kept thinking about why we were doing it and that it'll all be worth it even though my fingers were freezing off."
The doors to what we had been waiting for, the Keshi "Hell & Back Tour" at Roadrunner, Boston, finally opened at 7 p.m. but the line seemed to have gotten a late start. Slowly but surely people shuffled along the sidewalk, the whole process taking around an hour and a half to two hours just to get inside. 
Although there was a scheduled time gap between the opening act and Keshi. It was a 40-minute wait until Keshi actually came on. When he came on the stage lights were flashing and people were screaming. His opening song was GET IT which has around 162,000 streams on Spotify. He went on to perform the rest of his setlist including a lot of his popular songs like drunk and UNDERSTAND. When he performed drunk he told the crowd to sing as loud as possible. Even though a lot of people sang their hearts out, it didn't feel as hyped up as it should've. It could have been because people didn't want their voices in the videos they were taking but the crowd should have been more hyped. 
Throughout the concert, it felt like the energy wasn't exactly 100% but nonetheless it was a really fun experience. 
Keshi's stage presence was something else. You could tell he was putting his all into his performance. He moved with the songs and interacted with the crowd. His vocals were raw in the best way. His live singing did not disappoint, autotune was not necessary for any of his songs. His stage presence made it so that you didn't want to take your eyes off him. 
Although his concert started off with a bit of a rocky start, it ended up being all worth it. The vocals, stage presence, and setlist were all a 10/10 experience (the hype factor was probably a 6/10). Many Boston fans hope he comes back soon.
Leave a Comment
About the Contributor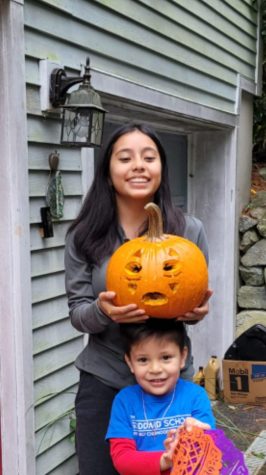 Ixchel Ramirez, Staff Writer
Hii! My name is Ixchel Ramirez, pronounced like Michelle without the m. I'm a junior at Triton High School. Outside of school, I like hanging out with...