The best type of pasta you can make at home.
The pasta that took Tik Tok by storm.
Gigi Hadid, a trend starter on the runway,  has now entered the culinary world. 
Hadid's vodka sauce pasta took the internet by storm after Gigi Hadid posted videos to her instagram story of her making the famous dish.  
"I don't know who Gigi Hadid is but I love me some pasta," said Junior Cam Neary
The ingredients in this dish include: salt, basil, vodka, garlic, butter, pepper flakes, tomato paste, pasta, onion, parmesan cheese, pepper, and olive oil.
This dish was first created in the 1970s and was made by Chef Luigi Franzese in Orsini Restaurant, New York City.  

According to Paesana in the article " The Story Behind The Sauce" by Paesana, "Vodka sauce is a pink sauce with a splash of booze that exists somewhere between a tomato sauce and an Alfredo sauce."
"I have never tried the pasta but watching the Tik Toks about it make me want to try it." said Junior Maggie Reilly
In 2020 Gigi Hadid posted videos to her instagram story of her making a spicy vodka pasta.  These videos quickly blew up and started being posted on sites like Tik Tok, Instagram, and Twitter.   
After the videos of Hadid making the pasta blew up, many people were inspired by what the supermodel was eating and they wanted to try it.  
Many people started to make the pasta for themselves and posted videos of them doing it which made the pasta even more popular.  These videos that the fans of Hadid would post could get millions of views.  
The spreading videos made the pasta as popular as it is today.  
"We didn't do it right so it didn't really taste like anything.  But then I made it again and it was good." said Junior Carolyn Lucy.
Leave a Comment
About the Contributor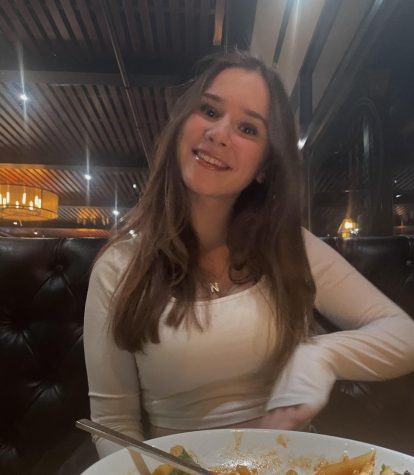 Anna Webb, Staff Writer
Hi, my name is Anna Webb.  I'm a junior at Triton High School.  I am involved with the community service club and environmental club.  I love to hangout...