Can you wear a TRUMP hat to school, if so what happens? 
A triton voice reporter performed a social experiment to see what the reactions would be to someone wearing a Trump hat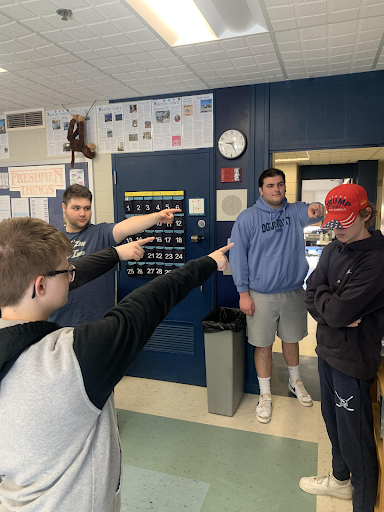 Editors note: This is a social experiment, the hat I used was not my own, it was borrowed. I am a neutral party who has no affiliation with either party. And whose opinion favors neither Trump nor Biden. I was not voicing my opinion by wearing a Trump hat, I was simply curious about the reactions one would receive if someone were to do so. 
           Trump, a controversial name, a name that most have an opinion on. Whether you hate him or love him, the former president seems to always be in the headlines for some story. His articles of clothing – especially the red Trump MAGA hat – have become a symbol of rebellion or patriotism to his supporters. 
           Here at the Triton Voice, I decided to perform a social experiment. That experiment would be to borrow a Trump hat for the day, wear it, and see the reactions I would experience inside our school. 
           In the past, there have been countless lawsuits concerning wearing a Trump hat to school. For one high school student in California, she was forced to remove a MAGA (Make America Great Again) hat by teachers. Claiming it violated her First Amendment rights, she sued the school district of Fresno, California. The school officials argued that they don't allow certain logos, as part of their dress code. According to the article it was deemed to go to court. 
          But here at Triton, as per our first amendment rights, students are allowed to wear politically motivated articles of clothing, as long as they don't cause a major disruption to a learning environment. 
          I started off my day by pulling into the school lot at 7:42 where immediately I was flipped off by a sophomore here at Triton. That was then followed by a junior commentating on the hat after I got out of my car saying "That's funny as sh**" 
          At 7:43 I walked into the school and was immediately stared at by students and teachers alike as I walked down the hallway, one specific math teacher gave me a death stare. At 7:45 students walking in the hallway found it hilarious and laughed at the hat. Within 10 minutes of being on school grounds, I experienced over 10 reactions. Mainly consisting of students finding it very funny, others not so much. As I walked by one of the principals here at Triton they said " Look at you!" as they laughed. When I explained to the administrator the social experiment I was undertaking, the administrator thought it was hilarious and said that it was 100% legal.  
          I took the liberty to walk around a bit during the first-period, where I experienced one sophomore in the math department saying " Where did you get that hat? It's sick, hahaha." As I walked by Mr. Allen's room, concerned for my safety, Mr. Allen, who knew of the experiment, stated, "Good luck today" very sarcastically. 
          I finally made my way to my first period class and as I entered it was almost like a movie scene where a character walks into a bar and everyone stops just to stare. The entire class looked up from their assignments to stare at my hat. Some students broke out laughing while others did not find it amusing and stared, what felt like, into my soul. It was when the class ended that a senior came up to me saying " What's with the fu***ng hat?" 
          At 8:42 I made my way over to the downstairs bathroom where multiple students said that they "f****d with the hat". While one other junior took a 0.5 picture of me with my hat on. 
          Moving on to my second and final class of this short half-day, I was tasked with handing out newspapers to certain classes. When at 8:44 walking into the history department one administrator proceeded to give me a death stare as I walked down the hallway into a class. The administrator didn't even move out of the way for me when I was trying to enter the classroom. So I had to maneuver around them.
          From 9:00- 9:16 am I dropped off the newspapers as teachers blatantly stared at my hat, some nodding in agreement others shaking their heads in aggravation. One teacher remarked on how it took guts to perform a social experiment such as this. Another sarcastically said how she doesn't like me anymore. As I walked through the halls I ran into a group of young girls who did four takes at my hat and then proceeded to turn around to look at it again as I walked by. I finished off my day with a teacher remarking on my hat saying " I like the hat, I'm not being sarcastic." 
          As I concluded the experiment, I felt relieved to remove the hat of my head and return it. The amount of traction it gained as I walked around the hallway made me feel like I was the main character in a movie. Everyone stared at me, and many made comments. It was honestly embarrassing to wear the hat because of the fact that I know many have strong feelings against it. I remember pulling into the school laughing of embarrassment because I knew what to expect from a school like this. Although I will say that almost all the teachers were very professional and chose not to voice their opinions regardless of how strongly I could tell they felt.
Leave a Comment