My Trip to Aruba
Anna Webb takes a trip to the Caribbean
From Boston it is only a 5 hour flight, the temperature stays from 80-90 degrees all year 'round, and it has  some of the world's most beautiful beaches.
It's Aruba, and its nickname of "one happy island" has helped it become  a very popular country that many Americans make their perfect getaway. 
According to britannica.com by Harmannus Hoetink, the island is 20 miles long and only six miles wide. The annual temperature is 81°.
"it's very warm, the beaches are very white and sandy," said Matthew Sauris who has traveled to Aruba in the past years.
Many people go to Aruba on vacation and some people dream to go. This article is an attempt to show Triton students and staff fun things to do on your vacation to the Caribbean.  Sometimes the best thing is even just sitting on the beach and swimming in the warm water.
The flight to Aruba consisted of watching movies and listening to music and when we landed it was 82° and rainy.  Aruba's rainy season ranges from October-January, and the average rainfall is 18 inches.  Other than the rainy season, when it rains it lasts for a very small amount of time, around 5 minutes.
By the time we got our bags and went through customs the rain had subsided and we were now on our way to the resort.  We stayed at Eagle Aruba Resort which is on Eagle Beach.  By the time we got to the resort and changed out of our sweatpants and sweatshirts into shorts and a t-shirt, we were all very hungry and chose to stop and eat at Uncle Tony's Pizza before we went exploring.
After eating food and becoming less hangry, my cousin, sister, and I went to the beach for our first swim of the vacation.  The water in Aruba stays around 80 degrees year 'round.  Swimming in the ocean when we got their was very refreshing and was an amazing way to start the vacation
The next day, Sunday February 12, we had a beach day and later that night we went to a restaurant called Nos Clubhuis for the Super Bowl.  On the beaches many restaurants and hotels had big movie screens playing the Super Bowl.  This was definitely something that many tourists enjoyed doing.  You had to make reservations at many restaurants and if you didn't it could be hours if you wanted to wait.

On February 13, we had a pool day and played bingo.  That night there was a festival at the resort where we were able to see many people dress up and represent their country.  The people who would dress up dance around with the other actors.  Many actors interacted with the resort guests and they would dance around the pool area.
"I love the beaches. I also did a bus tour of the island that was super fun as well as trying out all of the different restaurants. My favorite is Azzuro in the Playa Linda hotel. Best Italian food and views." said English teacher Ms. Erin. Dempsey when asked what her favorite activity is.
On February 14, we went on a snorkeling trip on the Jolly Pirate Sailing and Cruising. This is a three hour tip and you visit a old ship wreck then you also visit a shallow part of the water where many fish and sea turtles live.  This was so cool because I had never seen a sea turtle in the ocean before.
On February 15, my sister, mom, aunt, cousin, and I went to Arashi Beach.  Arashi beach is known for its amazing snorkeling.  It was amazing to be able to see all of the colorful fish and the coral in the water.
On February 16, we just had another beach day and at night we went to a restaurant called Passions on the Beach.  this restaurant is on the beach and we were able to eat dinner while watching the sunset.
On our last full day, we went shopping again in the High Rises for last minute gifts and at night we went to a restaurant called Madam Janettes. 
"Im really excited to go back to Aruba when I am able to." said junior Reese Renda
Leave a Comment
About the Contributor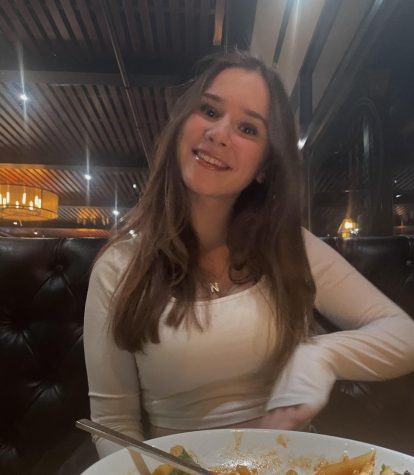 Anna Webb, Staff Writer
Hi, my name is Anna Webb.  I'm a junior at Triton High School.  I am involved with the community service club and environmental club.  I love to hangout...