What is Triton listening to?
A look into Vikings' playlists
Ella Sharpe looked very content walking down the hallway with her airpods on; you could even say she was smiling.  When asked what she was listening to, she responded with "Descent to the Abyss by Judas Iscariot."
With all this curiosity of what blasts on people's ears while they go on through their day, I went around asking people the now famous question , "what are you listening to?" Due to TikTok, this trend basically catches people by surprise, and without skipping they have to share what they're listening to, no matter how good or embarrassing  . It took me by surprise the wide music eclecticism that circulates around Triton.
 " I like the way metal makes me feel," said senior Ella Sharpe. "I identify with the anger, and the scene they set with their music." Sharpe went on to explain that she listens to pretty much all subgenres of metal as well, nu-metal, industrial, dark and death metal. "Metal, rock and grunge is mainly what I listen to, but undoubtedly my favorite artist is Nine Inch Nails," added Sharpe. 
  Spotify has  a feature that allows users to see what are the most played radios around the region , and with no surprises the most played artists around the Triton towns  are Taylor Swift, Morgan Wallen, and Luke Combs, country singers. Very fitting since the majority of the surrounding lands are farms. Those statistics are shown around Triton, but not in great numbers. 
" I like rock, rap, EDM, god there's so many," Senior Mason Scolamiero said, trying to funnel down the genres that he's most inclined to listen to on a daily basis. "There's this specific song from Kings of Leon, that really takes me back to my childhood. I just remember being at peace really. That's what music makes me feel, it helps with my anxiety." Scolamiero also shared some of his favorite artists, and between many, Queens of Stone Age and Barzum are the most prevalent. 
It's said that rock and rap are a side effect of adolescence, the need for this destructive energy are what many teenagers seek through this time in their lives. When the prefrontal cortex is still developing, part of the brain responsible for decision making, teens are more likely to get involved in risky behavior,this was actually confirmed by a study published by the American Psychological Association in 2002, on the article Developing adolescents: A reference for professionals. What better soundtrack to the angsty teenager's day than a heavy screamo? 
A big shift from the Trion metalheads, junior Gia Sico and senior Jessica Rocha have a more upbeat playlist, featuring genres like R&B, pop and K-Pop. "I love all of SZA's songs, but her newest album it's for sure her best," said Rocha. SZA's new album has been receiving many compliments both by critics and fans. Her Spotify radio is one of the biggest around Massachusetts as well. 
" R&B, pop and indie pop are my go-to genres." Sico says " I'm a very upbeat person and I feel like my taste in music reflects that, I mean my top three artists last year were Rihanna, Ariana Grande and Doja Cat." 
Leave a Comment
About the Contributor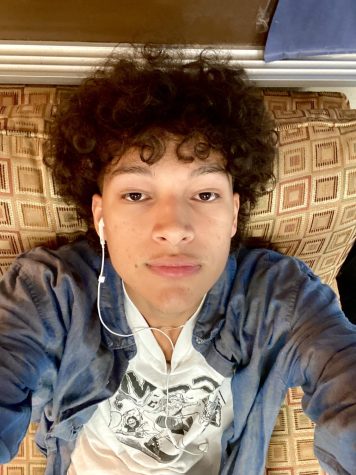 Ugo Nascimento, Staff Writer
To whoever reads this, my name is Ugo Nascimento and this is my last year at Triton High School.

I usually don't do anything in school, I just joined...