Hockey Update
The Triton Ice hockey team, eager to win, is a team worth following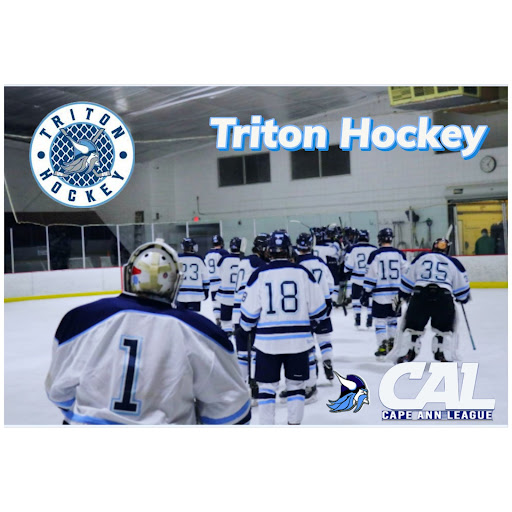 The Triton hockey 22-23 season is here, and the Vikings are back for revenge. Last year Triton had an underwhelming year going 5-14, losing in the first round of the state playoffs. The young team struggled to get goals on the board, and take hits on the ice. But this year having 15 returning letterman and 12 seniors on the team, Triton is shaping up to be heavy competition, with a shot at a CAL title. 
Triton kicked off its '22 season with a 9-0 win against Rockport, setting the tone for the start of the season. From there, after a tough 3-1 loss to Lynfield, the Vikings went on a roll, gaining a five-game win streak, defeating the teams: Beverly, Hamilton-Wenham, Amesbury, Chelmsford, and Danvers and eventually winning the Lion's Cup Christmas tournament.
" I feel like our team is a lot more confident then last year, we have a lot more ability, and we have a better chance to win games, at least more than five" Says Senior forward, Tyler Egan
After a heartbreaker loss against archrival Newburyport, 2-1, Triton fans and players are eager for their next game. Triton started off the game up 1-0  in the first period, with a beautiful goal by sophomore Luke Sullivan. Unfortunately, Newburyport got two lucky goals during the second half, and although Triton fought hard they weren't able to get one back for the remainder of the game.
 " 2-1 game, back and forth , we just got to produce more and I know we can, I'm confident in our team's ability to beat Newburyport." Egan said 
Spectator Chloe Connors has been following the Triton hockey program for years. Connors said "I feel like you guys (triton) are much more confident, I don't know if that's just because of  (tritons) pre-season; how you guys (triton) prepped. But I definitely think it helped, you can tell a lot of the guys were a lot more prepared going into this year." 
The Vikings now stand at a record of 8-5  after a tough loss against the number 1 team in the state: Lynnfield. Senior captain, Braeden McDonald said "we definitely put up a fight in both games. They are a really good team, the best in the state for division 3. I think we shouldn't be ashamed with how we played, it just shows that we can hang with good teams, and we just gotta keep our heads up high. After a 4-0 win against Hamilton Wenham on the 28th, the Vikes took on Amesbury with a hamulating win: 7-2. Where seniors Alex Monteiro and Ayden Deeb got their first carrier varsity goal.
Unfortunately Triton lost its latest match up against archrival Newburyport, 2-0. For 12 seniors, that will be their last experience in one of the most competitive and biggest rivalries in the state. With 5 games remaining in the regular season and a tough schedule ahead of them, Triton is prepared to leave it all on the ice.
Leave a Comment