Vikings Playoff Run
Triton Football Makes Playoffs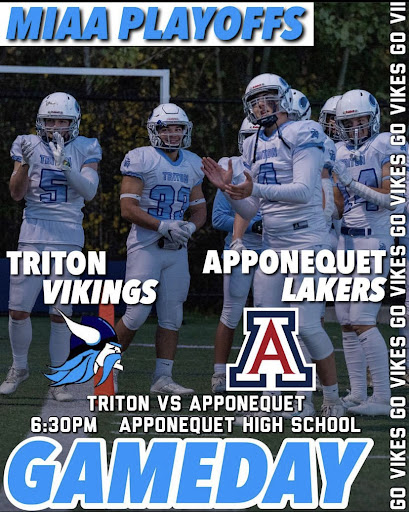 With the opposing teams  having a better record and home field advantage, What chances does Triton Football have going into the playoffs?
This question was answered when Triton Football took on Apponequet on Friday, November 4th. Leading up to the game had experienced a great season so far by earning a record of 5-3. The Vikings also have won three games in a row which is now giving them momentum  on their performance.
"I think it's a great match up actually. Two teams playing seniors who are trying to make history for their programs." Said Head Coach Eric Burgos in a recent interview. "Should be a fun match up and a fun game."
Quarterback Max Ciaramitaro is one of the leading Quarterbacks in the CAL in passing yards and had a positive message going into the game. "I prepare for every game like I have to play the best football of my life." Said Quarterback Max Ciaramitaro.
Josh Rodriguez has a big impact as one of the linebackers for Triton and talked about the defense going into the game. "The defense had a good week at practice and Max is making a huge impact on the defense that teams aren't ready for. The defense is getting stronger and stronger every game and I don't think that will be any different going into the playoffs. We have a great defensive coordinator and many stars on the defensive side of the ball who will be making plays all night." Said Linebacker Josh Rodriguez.
Triton Football has been putting in the work since last winter to prepare for games like this. At this point, Triton has found multiple ways to put the ball through the air and run the ball effectively to have defenses shaking on what they will do next. Triton hasn't had a start like this since 2016. The Vikings are putting in countless hours preparing themselves for this game. The Vikings have won three games and a row and were supposed to get a home playoff game, but unfortunately they landed into the eight seed. This means Triton has to travel an hour and 45 minutes to Apponequet. Unfortunately, Triton football's playoff run is over.
Leave a Comment