Triton Fan Zone: A New Tradition ?
Tritons Senior Class Hosted its First Ever School Tailgate Fundraiser, during Footballs Senior Night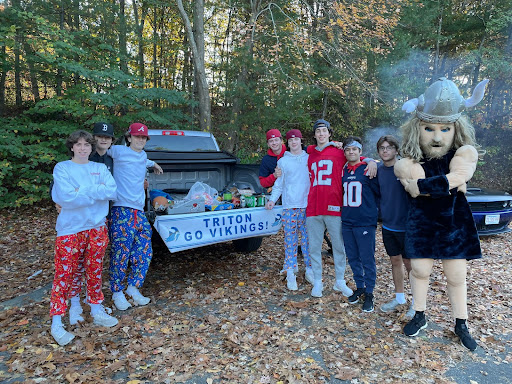 Two Fridays ago, the senior class set out to try a new type of event: a "fan zone" tailgate. For the first time, parents, students, and teachers alike laughed, tossed the spike ball, and grabbed food from friends and family.
Triton seniors orchestrated the tailgate before a senior night football match-up against Hamilton-Wenham, to help raise money for their class. This new kind of fundraiser might lead the way for a new Triton home game tradition.  While creating new memories and fun, it might also allow the senior class to fill their pockets deep for future senior trips.
Class advisor and history teacher Jillian Lewis says she is looking forward to the next tailgate. "
I think it was successful and I think that Mr.Haley and I have talked about the potential of it becoming an annual thing for at least senior night, if not more than that," said Lewis. "And would like to see it get bigger and bigger so more people and more families throughout the district will come to support and have fun."
As students pulled up to the tailgate, people quickly realized that this was an event that everyone was partaking in. Music, fires, and food, created the perfect combination of a great time. Another class advisor and math teacher, Matthew Haley helped organize the event.
"I was really surprised and appreciative of how the students came together to bring their grills, to bring Triton-themed decor, and Triton-themed food items," said Haley. "I thought it was really cool to see that happen."
After the fires dwindled out and the food ran dry, the Triton community led the way to the stadium to go and support the Triton football team's senior night. Triton took the win, leading the game by 20 in the end for a final score of 35 to 15, a fitting end for the football seniors.
When asked about the possibility of this type of event continuing down the line and into other big sports such as hockey Lewis was hopeful.
"I think we could do it for other sports too, it seems like football is the big driving force, because it's just one of those community gathers. But we definitely could consider doing it for other big sports and big games, if there is interest in us doing that."
Senior,Jack Hathaway was the designated mascot for the game two Fridays ago. Wearing the Triton Viking suit, Hathaway led the charge onto the field, to kick off the football game.
It was good, everyone had fun," said Hathaway. Compared to all the other fundraisers this one ranks high up. There has definitely been success but this is definitely one of the best ones."
Leave a Comment