First Unified Basketball Game Draws Big Crowd
New Sport Already Making an Impact on North Shore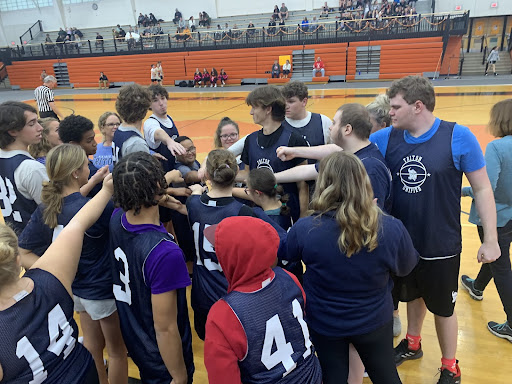 Unified basketball is a new way to play basketball at Triton. And it has already made a big impact.
Unified basketball is a slower pace of basketball that is played by a mix of students with and without intellectual disabilities. The goal is to make it as close to a basketball game as possible for those with special needs. The team practices two times a week and usually has one game per week. The Vikings and North Reading are the only teams in the Cape Ann League as of right now. The Vikings played against North Reading and there was so much support from both sides. Unfortunately, Triton lost to North Reading but everyone was so happy to be involved and be a part of this sport.
Mr. Alberts says he is happy that Unified basketball is finally a sport at Triton.
"In the fall of 2019, the district hosted a fundraising game with the Harlem Globetrotters (and) all the money that was raised went to the special ed department. The gym was packed and made the MIA starting a new sport," said Athletic Director, Mr. Tim Alberts in a recent interview.
Special Ed. teacher and coach Amy Holland said she likes the responsibility as a team leader as well as watching the kids come together.
"I love seeing all students being involved in varsity sports and how great the community has been by coming together and supporting the team," said Holland.
Senior Griffin Dupuis is a teammate for the team who loves the impact that the sport has taken on him.
"Fall is my off season. I love to work with kids and I love basketball, so it was a win-win," said teammate Griffin Dupuis in a recent interview. "I love all the kids on the team and I'm making a lot of friends and memories."
When playing  Unified basketball, a team must have 2 kids without disabilities and 3 with disabilities on the floor,  and the goal is for the disability players to score all the points so they can be involved in sports. Anyone who plays gets a varsity letter and with Triton and North Reading having great success with this program, the question now is, will Triton be able to make this sport a normal season in the fall? And will the CAL have more teams?
A couple years ago this was just a thought, and now Triton has done a great job setting an example for schools who want Unified basketball to be a part of their fall season. Please come and support the Vikings at 4:00 pm vs Danvers at Triton High School on Thursday, October 27th.
Leave a Comment