The Good, The Bad, and The Difficult
A Review on Tritons Chromebooks. Whats good, bad, and difficult about them.
At Triton, Google Chromebooks have taken over students' education.  Today I am going over the good, the bad and the difficult of these laptops.  At Triton, you can't go into a classroom without seeing a chromebook.  There isn't a single teacher who doesn't utilize chromebooks or the features they offer.  Although they are great tools for both teachers and students there are some problems that need to be addressed.  
̈ I like how the school was able to give them out and how it allows me to be more organized.  I also don't have to use my own computer and I don't need to bring it into school.  I don't need to run the risk of losing or breaking my own laptop.¨  Each student at triton is given a chromebook at the start of each school year.  This allows for all students to get access to the internet, including google classroom, allowing for the teacher to not go out of their way for students without internet or access to a computer.  Even the students like them. ¨I love my chromebook.  It's probably the most useful thing I have."Said John Serino.  The Chromebooks are the perfect tool for schools and students.  They are built well, not too big, or too small, and they are cheap.  One chromebook with the same features from around the same year as Tritons is around 60 dollars.  For comparison a Microsoft laptop is around 550 dollars and Apple sells their new Macbooks for 1000 dollars.
These computers aren't the best, they are older and some are a bit worse for wear.  ¨My Chromebook has a few broken keys and I can't type commas and use question marks.¨ Says Triton Junior Sam OShea. Since students don't actually own them, I feel like they are used as any other school property.  Meaning that these chromebooks take a beating from time to time.  Each one is a pretty sturdy piece of tech, but still they aren't indestructible.  
With each of these chromebooks, Triton is able to monitor the screens with a program called Classwise.  Some students think this breaks their basic student rights and it's an invasion of privacy.  This isn't the only issue, many times throughout the day you will see people sitting in the back of classes crowded next to a plug.  Charging is always inevitable with these laptops.  The battery life isnt to bad with around six hours of usage from a full charge.  Although this may seem like a lot of time, most students leave their Chromebooks in their backpacks.  When it comes time to charge them many students forget it at home and are Chromebookless for the day.  Leading me to my next issue.  When people forget them you can go to the library and sign out another.  Although this may not seem like a problem, these Chromebooks are like the rejected toys from Toy Story.  Most of them have sticky keys, missing keys, buttons that don't work, and many other problems.  "Everytime I forget my Chromebook, I have to borrow that same computer that always has missing keys. ¨ says middle schooler Foster Campbell.
        Even with all the problems and difficulties that come with them, Chromebooks are one of the better tools if not the best for both teachers and students.  The Chromebooks allow for everyone to have access to the internet, a way to get to google classroom, and easy access to email your teachers.
Leave a Comment
About the Contributor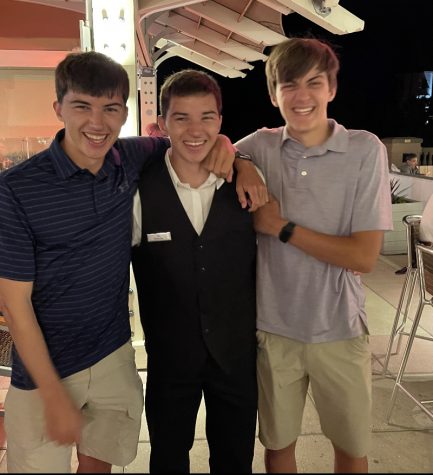 Cooper Campbell
 Hi, my name is Cooper Campbell.  I am a Junior at Triton High School, I am very active in Triton sports and I usually play Soccer and Track.  Outside...