No Coach No problem
The Triton Baseball team has yet to find a head coach, but their slew of talent should be able to make it an easy job for anyone.
Only two weeks before the start of the season, a coach has still not been named for the Triton baseball team. The squad graduated 8 seniors a year ago and needs some younger players to step up into bigger roles. The team finished 10-8 and won their first round playoff game vs Essex Tech before falling to Gloucester 5-1 on the road in the second round. Although the Vikes are losing a lot of star power including pitching Ace Cael Kohan, 1st Baseman Kyle Odoy, Shortstop Brady Lindholm, Catcher Ryan Lindholm, and 3rd baseman Andy Masher, along with a few role players, they are returning a few proven varsity players who will be tasked with carrying the load this year. 
Heading into the new year the goal of making the state tournament and winning a Cape Ann League title remains the same but Senior Captain Dylan Watson stated "obviously we want to make a good run in the tournament, but our main goal is to compete every game, and have a lot of fun" 
Watson who is a Colby-Sawyer commit, and the only captain this season had a breakout year last year as the teams #2 pitchers and at the plate, with his big moment coming in a walkoff single to lift the Vikes over Pentucket. A big name to look for this season is Endicott commit and returning CAL All-Star Joe Abt.
"I'm excited and ready to go" says Abt
 Joe was one of the league's best hitters last season, and also pitched in a few games, making him a player that every team has to gameplan for this year.
 "Joe is great at the plate" said Watson
 "He always shows up when we need him" 
Another returner on the mound is senior Cole Daniels, who mostly carried the role of a closer. Daniels flourished in that position cementing himself as one of the best closers in the area. Junior Griffin Dupuis was solid at the plate last year as a sophomore, and looks to be one of the better hitters on the team in 2022. 
One of the biggest struggles for the team this season won't actually be on the field. As we get closer to the start of the season there is still a big hole that needs to be filled for this team to be successful. Coaching. Former head coach Ryan McCarthy and assistants Jimmy Michael and Tim Southhall have all left the program, leaving a few vacant spots at coaching positions. 
"There are a few candidates" Says Athletic Director Tim Alberts, "but no decisions have been made at this time" 
Not having a coach this close to the season is definitely a big deal for the team. Although they don't know who will be leading them this year, the team has still been able to have captains practices in preparation. Four returning varsity starters isn't a whole lot, but the Vikes will get some help from Catcher Andrew Johnson, and 1st baseman Nick Dupuis who were on the team a year ago. Joining them will be a few newcomers that will hopefully fit into a role this spring including Cole Piezychinski, Jack Lindholm, and Jake Lennon. 
The team has what it takes to replace the big senior class from last year, and another tournament run should be expected for the boys of Spring.
Leave a Comment
About the Contributor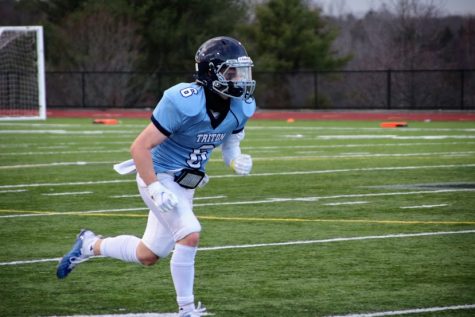 Jared Leonard, Staff Writer
Hi! My name is Jared Leonard, I am a senior at Triton High School. I spend most of my time playing sports and hanging out with my friends. For the school...