Vikings Boys Lacrosse
Looking forward of whats to come for the boy's lacrosse team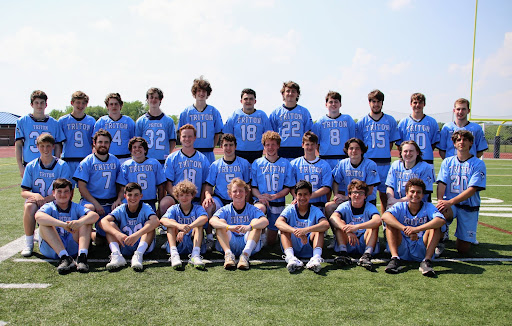 The Triton boys lacrosse team has big shoes to fill after being the Division Three north runners-up in 2021.  The Triton Vikings boys lacrosse team had a historic last season making it to their first-ever Division Three North Championship.  Ultimately the result wasn't what they were hoping for, falling to their Cape Ann League (CAL) rivals, the Newburyport Clippers, 14-9
Triton Physical Education teacher Donna Anderson is also the boy's lacrosse assistant coach.
"It is going to be an interesting season," said assistant coach Anderson "There are a lot of holes to fill and it's up to the leaders to put in the work."
With a new coach and a co-op opportunity with Georgetown, the lacrosse team had no idea what to expect last season.  This season was also technically a COVID season limiting play to intra-CAL teams rather than playing some out-of-conference teams.  The Viking's only three losses came from Newburyport in three close games.  Luckily, this year the Clippers lost their top face-off player who went to Pingree too but they still have their division one commit Jack Hadden trying to lock down on defense. 
"We lost James Tatro at midfield who was a big impact player," said coach Anderson. "We also lost two starting senior defenders down low."
Starting out last season the team opened with a home game against Newburyport and lost by two 12-10.  This was the boy's first game with a pretty much brand-new team and a brand-new coach.  It was a moral win seeing that they then went on a ten-game winning streak, putting their record at 10-1 with one more regular-season game against who else, the Clippers for the CAL championship.  This was easily one of the best games the Vikings played even though they came up on the wrong side.  After every quarter, it was a tie game and ended up going into overtime.  After Port having the ball the entire overtime, the Clippers eventually scored after five minutes, winning the Cape Ann League.  This game put the Vikings record at 10-3 going into the MIAA tournament as the five seed.  The Vikings then went and beat Pentucket (12 seed), Ipswich (4 seed), and Austin Prep (1 seed) but lost to the number 3 seed Newburyport in the finals putting their final record at 13-3.
Three-sport varsity athlete Jared Leonard led the Vikings in points last season.
"We have a strong group of upperclassmen that have a lot of varsity experience,"  said the tri-captain Leonard "this created a winning culture for the underclassmen to join into."
This year, the team has lost 10 seniors, so there are a ton of shoes to fill in order to be successful.  The team breakdown in lacrosse is four defensemen, two middies, two attacks, and one goalie.  The team is going to be young, but with the talent that is returning from last year to help out the underclassmen, the team will find its groove and make an impact on this team.
"I would honestly say our weakest part is our defense," said tri-captain Dylan Angeloplus "Just based on how many people we list and who actually played last year stepping up"
With the upcoming season being a regular one with 18 games scheduled and six out-of-league games, it should be a really fun and successful season.
Leave a Comment
About the Contributor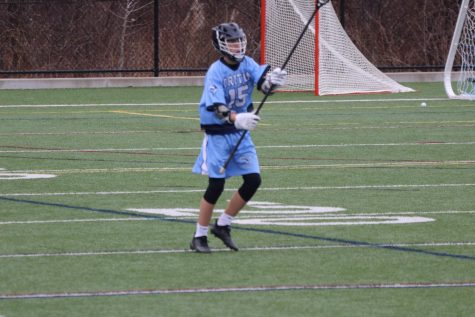 Kyle Bouley, Staff Writer
Hi there! My name is Kyle Bouley. I'm a senior at Triton High School.  I play golf and lacrosse.  I have a brother named Drew and is a sophomore at...