Hoover Hits it Off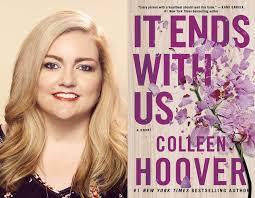 Lily Bloom goes through many challenges in the novel, It Ends With Us, written by #1 New York Times bestselling author, Colleen Hoover. To be very straight-forward, I only recommend this book to mature audiences as it is considered a new adult book, and before reading you need to check the trigger warnings online as this book contains sensitive topics.
Although the novel is considered contemporary romance, It Ends With Us has a meaningful message of how to break cycles, and many important life-lessons. 
In her "note from the author" at the end of the book, Hoover explained that she decided to write the book so that she could try to understand her parents' relationship more fully and get a better perspective on women all around the world who were in her mother's position. The novel focuses on Lily Bloom, starting the day of her father's funeral, when she meets Ryle Kincaid, and they form a connection by saying their "naked truths". A main topic in the book is abuse. Lily had a very challenging upbringing in an abusive household, but during that time she formed a relationship with a boy on her school bus, Atlas Corrigan. 
As the novel goes on, the writing targets both Lily's life in the present as well as the past. Lily's story is based off of Hoover's mother's story in some aspects "I also wanted to write it," wrote Hoover "for all the people who didn't quite understand women like her." (Page 369 of the novel.)
Since March of 2021, I have read 49 books. However, It Ends With Us has really stuck with me ever since I read it and I haven't been able to get it out of my head. The plot is set up in a way that is easily, but interestingly read. Hoover's writing style makes reading effortless and captured me into the story. She used very descriptive words that made visualization very easy.
"His eyes were bright," said Lily while describing Atlas's eyes (35) "unlike the rest of him. Real blue eyes, like the kind you see on a Siberian husky."
I fell in love with Hoover's writing style and the way she was able to completely transform me into a different world and make me feel so many different emotions. The characters were charming in a way that made me just want more and more of them. I give the book a 5/5 for those reasons and I can't wait to read more of Hoover's books.
I personally loved the story and am highly anticipating the It Ends With Us movie that was recently confirmed.
Leave a Comment
About the Contributor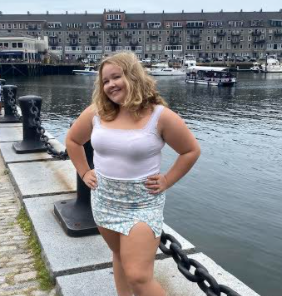 Emilia Joyce
Hi! My name is Emilia Joyce, and I am a junior at Triton High School. Outside of school I swim, play tennis and go to the gym as much as possible. I have...