My Left Foot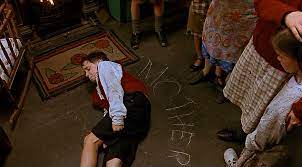 My Left Foot: The Story of Christy Brown follows an Irishman with cerebral palsy as he learns to express himself through art. Released in 1989, the film stars Daniel Day-Lewis (There Will Be Blood, Gangs of New York) as Christy Brown, a real man who wrote a book of the same name and the basis of the film. Jim Sheridan directed this adaptation that won two Academy Awards, going to Day-Lewis and his co-star and onscreen mother, Brenda Fricker.
Unsurprisingly, the best part of this movie is Day-Lewis's performance. It's truly incredible that a man who does not have cerebral palsy was not only able to act as if he did, but also act so well. He painted a full picture of who Brown was: someone who was disadvantaged from the start of his life but did his best to live it on his terms. The best example of Day-Lewis's ability to stay in character is when Brown discovers that his therapist and crush, Eileen Cole, is getting married to another man, he has an emotional episode consisting of him downing several glasses of liquor and threatening her fiancée.  His acting in this scene is incredible and leaves no questions as to why he won the Academy Award. 
Fricker's role as Brown's mother, Bridget, is another reason why this movie is so great. Polar opposite to the stubborn and obsessive Christy, she is tasked with managing a family of fifteen and all of it's challenges, including loss of employment and unexpected pregnancies. Fricker couldn't have portrayed the motherly love of the character any better, and it's hard to imagine this movie without her performance.
My Left Foot is gritty, sad, honest, and undeniably inspirational. Day-Lewis and Fricker helped create what has become one of the better biopics in recent history, and it is certainly worth a watch.
9/10
Leave a Comment
About the Contributor
Sam Mollineaux, Staff Writer
Hello, my name is Sam Mollineaux and I am a junior at Triton High School. I like to run, fish, and watch movies. I am a lifeguard. I live in Newbury with...