Winter Sports Update
The harsh Massachusetts winter always brings freezing temps, snow, ice, and rough conditions. As the winter storms go on outside, Triton sports teams compete in the Cape Ann League, working to earn a championship banner in the high school gym.
As we move into the peak of the winter season, the Triton Voice brings an update on our winter sports teams, and takes a look at how their seasons are going so far. 
Triton wrestling is a program with a long history of success, going over 20 seasons and counting without a losing record. At the time of this writing, the wrestling team's record sits at 8-0, most recently beating Salem in a tight 48-32 meet. The team is led by Head Coach Shawn McElligott, who is known for his coaching success at Triton in wrestling, football, and track. Coach Mac is assisted this year by Coach Ryan Archambault, who coached with him in seasons past, but is back at Triton after going to coach other teams for a time. Senior captain Zander Rolfe commented on the team's season thus far, stating "I'm proud of every kid and coach in the mat room helping us get better, and also for making my senior year so incredible.". Rolfe also made it clear that he and the rest of the team hold high goals and expectations for this year. "I'm greedy and I won't be completely satisfied till we have that state trophy.".
Triton hockey is a team that students love to watch, and the games always have an electric atmosphere, win, lose or draw. The boys record currently sits at 3-5-1, after dropping a few close games as they figure the new team out after losing last year's talented senior players. The team is led this year by Coach Ryan Sheehan, who has seen success with the team in the past. Senior captain Cole Daniels had this to say about the season so far: "It's been up and down but we are a young team. I think we will definitely be able to get on the right track as we learn to play at a varsity level together.". Daniels's positive attitude is something we can all admire, along with his talent on the ice. He has 4 goals and 2 assists thus far in the season, totaling 6 points.
Triton basketball, led by head coach Ted Schrender, is sitting at 3-6 on the season after a tough couple losses. The boys came back from an over 20 point deficit against Pentucket, but ended up losing by one. They are a promising program, and that record will improve as they continue to figure out how to get into a groove and play together. 
Leave a Comment
About the Writer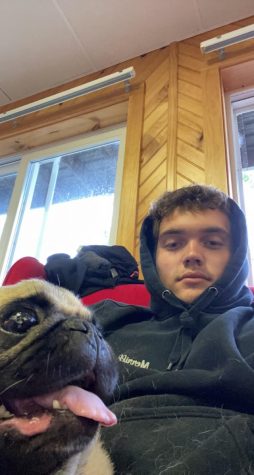 Dylan Merrill, Writer
My name is Dylan Merrill and I'm a senior at Triton High school !! Outside of school, I enjoy working with my dad, working out, making music, and supporting...