A Hero Immortalized in the Stars
On Tuesday November 30th Michigan Oxford High School became another victim of a far too common crime.  James Crumbley, a 15-year-old sophomore, opened fire with his fathers 9mm Sig Sauer.  His repulsive crime resulted in the death of four students and the injury of six faculty members.  However this is not about James Crumbley.  It's about a much brighter soul, someone who impacted the people around him and had nothing but a bright future in front of him.
Tate Myre was a junior at Oxford high school in Michigan.  He was a pillar of his community within the school building and was known for both his academic and athletic prowess.  A three-sport athlete and strong member of the Oxford community,e was one of the four students that died in the shooting that occurred about three months ago.  However during this horrifying event he decided to take control of his own life and attempted to disarm and wrestle down the shooter.  Many of the students considered him to be one of the most athletic students at the school.  One of Tate's best friends Wingret opened up in an interview to the  Detroit Free Press  about the selfless behavior of Myre.  "I told them that Tate is the fastest, most athletic kid in that school," Wingert said. "There's no way he couldn't have gotten out of there if he wanted to. He would have been the No. 1 candidate to be able to run out of that school if he wanted to. I know Tate chose to do what he thought was right and he made the ultimate sacrifice."  
Mr. Joseph Galante, a Triton staff member, said that Myre was an example of true heroism.  "He loved someone in that school enough to think they deserved a longer life.  He did the most noble thing possible".  Tate's heroic actions have stuck with the staff of Triton High School as well as the students in our community who have tried to imagine themselves in his situation.  
Dylan Merrill, a wrestling captain at Triton , had this to say about his heroic behavior.  "I think that he's very brave and I think that we should aspire to have those characteristics that he had".  Myre's sacrifice was an action that has stuck with the Triton community and his selflessness is something that everyone should aspire to match.  
Maddie Hillick, a field hockey captain at Triton had this to say about his classmates' efforts to get Tate's high school  stadium dedicated and named in his honor.  "I think it's a great idea if I wanted to name it after someone they should have done something impactful and I can't think of a better example than him.  What he did took a lot of courage and I know I wouldn't be able to do something like that" The name change of the stadium is only one of the small steps being taken in order to immortalize Myre's legacy.  
Tate has been named and made an honorary five-star recruit.  When looking at the player rankings online Myres name sits atop the list of prospects coming out of Michigan state.  That along with a slew of NFL player support has taken a true tragedy and turned it into a way to remember a true hero and an amazing young man.  As well as his 5 star status , Michigan State offered the Myre family a full ride scholarship to Tate in his honor.  He will be named on the roster each year and will be celebrated for his bravery by his fellow Michigan Spartans.
Leave a Comment
About the Contributor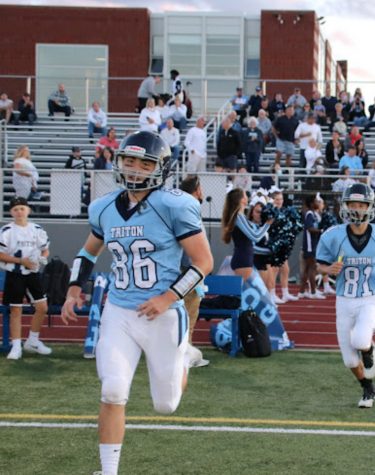 Louis Bohlen
Hello.  My name is Louis Bohlen.  I'm currently a senior at Triton High school. 

I play football for Triton.  I have a sister and enjoy getting...