Why College Athletes should be paid.
With all the money that college athletes bring in, their respective schools should reward them with a salary.
This has been one of the hottest debates in college sports over the last decade. Should college student athletes be paid? My answer is yes. College athletes have a lot on their plate every day, and they bring in a lot of money for their schools, so why shouldn't they get paid?
Being a student athlete is just like having a full time job. Every day you're in the weight room, on the field practicing, studying, doing homework, or working at film sessions. Playing a sport at the collegiate level is time consuming when it comes to practices or games everyday for months at a time. Student athletes in higher divisions can make different tournaments or be a part of postseason activities that can take them out of school for weeks at a time. This leads to more homework and studying to do when they get back to campus.
College athletes bring in a lot of revenue to their schools from playing in big games that are on national television. Colleges make money for every televised game, students should receive some of the profit that goes to the school. In addition, colleges gain revenue by selling the athletes' apparel and using their names as marketing tools to gain money and to spark the interest in younger athletes. Money should vary based on how big the school is or what division it is in, but any college that makes money off of their athletes playing for them should have to financially compensate the athletes in return. 
Some people say that scholarships should be the only pay that college athletes receive. According to the Huffington Post, a full Division 1 scholarship, on average, is about $25,000 per year. This might seem like a lot of money, but this only brushes the surface of all the spending at college. The scholarship money goes towards tuition fees, housing, meal plans, and textbooks, but those are not the only costs that a college student will face. With the continuous sports activities the players have no free time to do anything other than practice or study. If college students try to balance sports, school, and a job, while attempting to maintain a normal sleep schedule, it is pretty much impossible. 
While there are times during the off season to work a couple hours at an off-campus job, it is not sustainable throughout the season.  Scholarship money does not equal cash in a players pocket. According to collegexpress.com,  "The average student athletes day starts around 5-6 a.m.. They get in a morning lift at the practice facility, then make their way to classes until about 4 p.m.. After classes, they go to practice for a couple hours, then come home, do homework, and go to bed". This full schedule is just as rigorous as a professional athlete's, but the difference is that  professional athletes don't have to worry about school work, and their bank account increases every day.
College athletes spend hours upon hours every day practicing, working out, and studying to become a better student athlete, but for what? We all know these collegiate athletes aren't playing the sport they love to keep their colleges financially stable. Out of all of this money that is awarded to the college as a result of the athletes' hard work, don't you think some of it should be awarded to the students?
Leave a Comment
About the Writer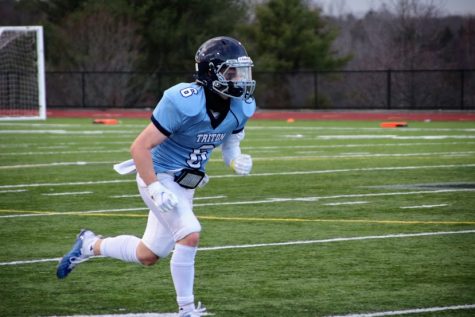 Jared Leonard, Staff Writer
Hi! My name is Jared Leonard, I am a senior at Triton High School. I spend most of my time playing sports and hanging out with my friends. For the school...