A Review of Trump's… Twitter…

Loading ...

Since the opening of President Donald Trump's Twitter in 2009, he has sent more than 41,000 tweets and is "mentioned" at a rate of 1,000 tweets per minute, according to The New York Times. Some go as far as to consider Trump's presidency "the first twitter-based presidency (DiggitMagazine). Much of Trump's twitter is politics based, but there are also personal tweets and digs towards others that will need review, rather than the politics. Being the President of the United States is a great deal of power and responsibility. Due to the fact that Donald Trump has been the President of the United States for four years, his life has been broadcast to the public and picked apart by many. 

So let's do that to his twitter. 

Let's start off with the tragic death of basketball legend, Kobe Bryant. The death of Kobe, his 13-year-old daughter GiGi, and the seven other innocent lives on board the helicopter that crashed on January 26th, 2020 shocked the nation. Social media was filled with tributes, words of sadness and sorrow, and most importantly support for the families of the late. Former President Barack Obama tweeted out a heartfelt message in response to the horrible news. Current President Donald Trump's message clearly was not as heartfelt.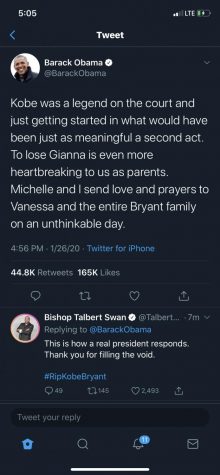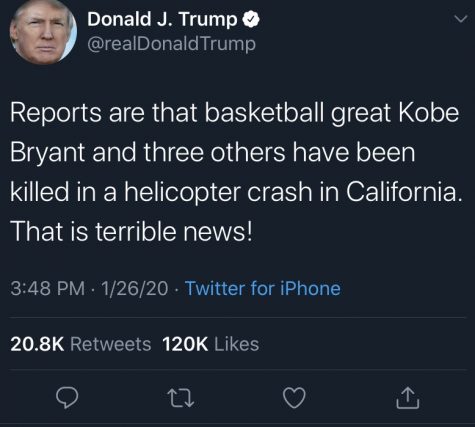 Left: @BarackObama
Right:@realDonaldTrump
There was immediate backlash regarding the differences between the tweets. Bishop Talbert Swan, a pastor, and activist responded to Trump's tweet with, "That is terrible news, exacerbated by the fact you're still in office. You don't respect Black athletes. Keep Kobe's name out of your lying, racist, mouth, you vile, disgusting, white nationalist, a demagogue."
This same activist commented on Barack Obama's response to Kobe's death in a very different way saying, " This is how a real president responds. Thank you for filling the void. #RipKobeBryant". Clearly, politics are involved, and a clear disliking of Trump is obvious, but there still is quite a blatant difference in the way the former and current leader responded to the death of a real legend. Now, let's talk about the whole "changing tweets".
Here are two instances in which President Trump has altered his tweets. 
This circles back to Trump's tweet about the death of Kobe. At 3:48 pm Trump's tweet stated "Reports are that basketball great Kobe Bryant and three others have been killed in a helicopter crash in California. This is terrible news." 
At 4:46 pm Barack Obama posted his tweet stating "Kobe was a legend on the court and was just getting started in what would have been just as meaningful a second act. To lose Gianna is even more heartbreaking to us as parents. Michelle and I send love and prayers to Vanessa and the entire Bryant family on an unthinkable day". 
Trump's original tweet received much backlash, so why not repost a different tweet to make yourself look better! At 6:54 pm Trump's new and improved tweet states, "Kobe Bryant, despite being one of the truly great basketball players of all time, was just getting started in life. He loved his family so much and had such a strong passion for the future. The loss of his beautiful daughter, Gianna, makes this moment even more devastating… Melania and I send our warmest condolences to Vanessa and the Bryant family. May God be with you all!"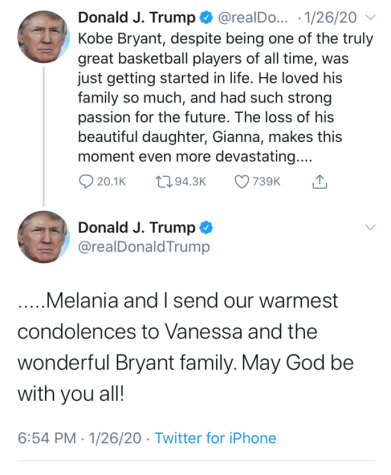 Yeah, okay, Trump. 

A top comment on that tweet by @TranslateRealDT states:

 "Wait, this doesn't sound like Trump."

* checks Obama's tweet from 2 hours ago*

"Oh. I see."

 

It is clear that the two President's tweets definitely ended up similar. 

The next tweet Trump has changed after the fact came after Super Bowl Sunday, and let's just say Trump's "twitter fans' ' did not hesitate to show they noticed.

The first tweet posted by President Trump at 10:15 pm on 2/2/20 stated, "Congratulations to the Kansas City Chiefs on a great game, and a fantastic comeback under immense pressure. You represented the Great State of Kansas and, in fact, the entire USA, so very well. Our country is PROUD OF YOU!"

Wow, what kind words. Only problem? The chiefs play in Missouri…not Kansas. But kudos for being close Mr. President!

Trump quickly tried fixing his error by deleting the tweet and fixing his error, at 10:27 pm on 2/2/20 he posted, "Congratulations to the Kansas City Chiefs on a great game, and a fantastic comeback under immense pressure. We are proud of you and the Great State of Missouri. You are true Champions!"

However, many noticed the error before he got the chance to delete and fix the tweet. My favorite response was from

"

"You can't erase your impeachment, either @realDonaldTrump"."

— @mollyswordmcdonough

, "You can't erase your impeachment, either @realDonaldTrump". Following the tweet was a picture of his, let's say, incorrectly worded, original tweet.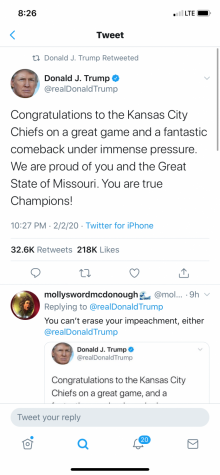 ←Trumps original tweet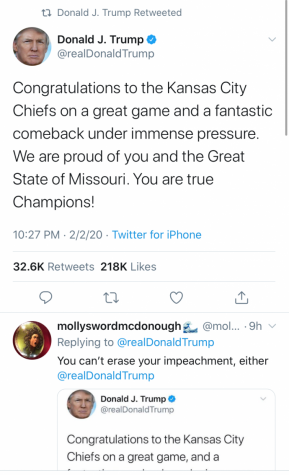 Trump's "revised" tweet with top comment: ↑
The last thing that should most definitely be included in this review of current President Donald Trump's twitter is his "issue" with Greta Thunberg.
 A 17-year-old climate activist. 
Now, this young lady was named the "Time Person of The Year" for 2019, so that may be threatening to Trump… but regardless, the President of the United States should not be tweeting about a 17-year-old girl calling her out for her "anger management problem" and then proceed to tell her to "chill". Like hello? She is desperately trying to save the same planet you walk on! 
This comes with some laughter however due to the fact that the 17-year-old has enough confidence to change her own Twitter bio to President Trump's exact words he so kindly tweeted out about her. 
On 12/11/19, at 7:22 am President Trump tweeted, "So ridiculous. Greta must work on her Anger Management Problem, then go to a good old fashioned movie with a friend! Chill Greta, Chill."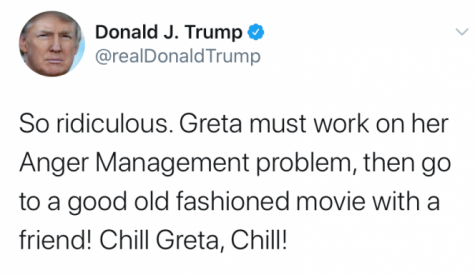 Soon enough Greta Thunberg's twitter bio then read, " A teenager working on her anger management problem. Currently chilling and watching a good old fashioned movie with a friend."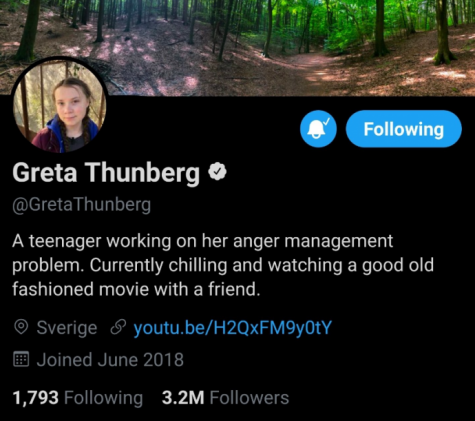 Clearly the President doesn't scare this girl! 
It could be said that this review of some of President Trump's finest moments on Twitter proves at least something… perhaps that being our beloved President needs a few lessons on social media etiquette!
Leave a Comment
About the Contributor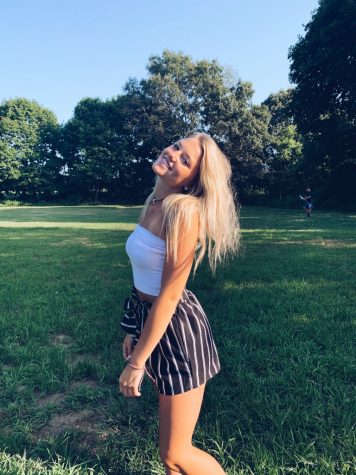 Holly Harris, Staff Writer
Hey! My name is Holly Harris. I am a junior at Triton High School. I play soccer for Triton, as well as softball and enjoy both sports. I work at the Market...