Musical Inspiration
Voices from Triton's Musicians and Beyond
Hang on for a minute...we're trying to find some more stories you might like.
Click here to hear the podcast for this article 
This is Ethan Tougas, staff writer for the Triton Voice of Triton High School in Byfield, Massachusetts. Today we're going to be discussing musical inspiration and its roots.
Musical inspiration stems from various things in our everyday lives, whether it's personal tragedy or success, a live show, or those who are close to you.
Quentin Callewaert, a  musical prodigy of Triton spoke about what it is that inspires him musically.
"I can get musically inspired in so many different ways," said Callewaert. "But the way that I find that's most prevalent in my life is when I go to a show. I see a musician who is either just a fantastic player, or a fantastic songwriter, or who just has fantastic energy, and they just blow me away. I want to be just as good as them.
This is something that I really do see often, I tend to play a lot of shows which means I see a lot of musicians, and so many of them are just absolutely phenomenal. So I can kind of take a little bit of all these different musicians which is really really cool."
Callewaert continued discussing his genre of choice.
"As for my musical style of choice, it's kind of cliche to say so but I don't really think of myself in one genre," said Callewaert. "I really just play the music that I like. I started with classical guitar, but I've since moved on to so many different types of music like acoustic, contemporary, fingerstyle, all sorts of things. Of course I love rock n' roll, and I love reggae and blues. It's really hard to pinpoint exactly what my musical style of choice is."
Callewaert represents the strong musical presence in our own Triton community, but this level of talent and intellect can be found elsewhere as well.
Michael Lynch of Amesbury High School is involved in numerous musical groups such as the AHS Chorus, AHS Rhythmics (a select acapella group), and participates in the Senior Districts, an event involving the best musicians in the northeastern district.
"
I love when I see someone who really gets into the music they're playing and connects to it on an emotional level. "
— Lynch
"The thing that inspires me most in music is just people doing what they love to do," said Lynch. "I love when I see someone who really gets into the music they're playing and connects to it on an emotional level. It just feels so authentic and reminds me how much I love to play music. In my experience, I see this a lot. I surround myself with people who devote their time into performance the same way I do, so I always have that source of inspiration whenever I feel like I've hit a plateau with whatever instrument I'm playing."
Lynch went on to say some rather kind words about the person who inspires him most.
"Honestly, one person in my life who inspires me is Ethan," said Lynch. "I've spent so much time around him for six or seven years, and everytime we hang out I learn something new or I hear a new song that I like. He's played such a huge role in helping me find my music taste and has motivated me to make progress in my music."
Looking past the student view, Susan Densmore, director of the arts department at Triton, spoke about what it means to be inspired.
"I guess it depends on what you mean by inspired, like inspired to what? I find it inspiring when our groups here get up on stage and do a great job after working their butts off for a long period of time, but whether it inspires me to create music, I don't know. It gives you that warmth and the feeling of 'wow, that was job well done', and you take pleasure in somebody else's success."
Ethan: "Is there a particular person who inspires you, either in your personal life or a famous musician you haven't met?"
Sue: "That's a harder question… not a specific person that comes to mind right now. Certainly there have been times in my life where artists that I really respected have inspired me. I was the Kennedy center honors every year, and hearing the stories of those artists no matter who they are, is really interesting."
Ethan: "would you say that being inspired by or influenced by a different artist is more important or just as important as being original to yourself? In terms of creating your own music?"
Sue: "Well, to a certain extent there is no such thing as 'original', because we are all surrounded by music so much and its part of the fabric of what we do. It would be really hard for somebody to be entirely original without being influenced by the things that they've heard."
"I don't know," said Callewaert. "It's a little bit of everything,"
About the Writer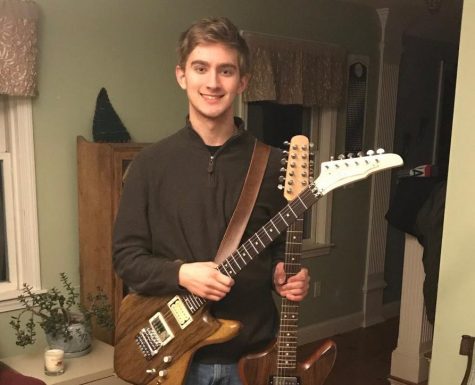 Ethan Tougas, Staff Writer
Hi, I'm Ethan Tougas. I'm  a 17 year old senior and I enjoy covering stories which inform the student body about various educational and recreational...