Honoring Triton's Veterans
Reminiscing with Triton's Heroes
Veterans Day is celebrated every November 11th to honor veterans for their military service. It was originally called Armistice day to honor World War One veterans but, it was renamed Veterans Day in 1954 to honor all veterans. Triton has a number of staff who are veterans; such as, Robert Brislin, Wanda Codair, and Scott Dube.
Brislin, an IA in Triton High School, also known as Mr. B, enlisted in the Navy right out of high school. He joined the Navy because he didn't know what career he wanted to do. Brislin's father was in the Navy too, so that influenced his choice to join.
"My father was a career Navy man so I wanted to try it to see if I liked it", said Brislin. Being in the Navy was a whole different atmosphere. "It was interesting.. It was a completely different type of lifestyle because you had to go through basic training; then you had to go through schooling and then you served on a ship". If you didn't go through basic training and pass training they would kick you out of the Navy.
Brislin had to go to an electronic school to learn about ships so he could work on them. His duty in the Navy was working as a technician.
Codair, a instructional assistant in the TLC room, served in Flordia as part of the Marine Corp right out of high school. Codair had family in the Army and Air Force but she was the first member of her family to join the Marines. Codair chose to be a Marine because she thought the uniforms were more cute.
¨I figured if I was going to join, I might as well wear something cute and go all the way."
At boot camp, there was a gas leak in the building one day, so they had to evacuate. So her group had to miss a day of camp and felt like they were behind the whole time. In boot camp it's the drill instructor's way or the highway she said. "If you do something stupid, they punished you and your whole group," Codair said. The housing was comfortable and adequate and the food was ok.
"They didn't give you a lot of time to eat. They had MREs", which are Meals Ready to Eat. One of the worst meals she had there was dehydrated pork patties. But her and her peers favorite meal was spaghetti and meatballs. Codair served for two years and six months being overseas. Her job was a field wireman in which she had to learn to climb telephone poles to fix wires. She kept a journal of her time during the Gulf War.  
Dube a Technology and engineer teacher at Triton High School, enlisted in the Marine Corp. at age 17 and went in right after high school. Dube went to South Carolina for training.
He joined because "I just always wanted to go in the military. I saw the movie "Green Beret" and I always wanted to serve. Originally I was going into the army but I couldn't find the recruiter so I joined the Marine Corp," Dube said.
He also said,  in boot camp, you couldn't blow your nose without permission.  They wanted you to be disciplined in case something happened. They got up at 5 a.m. and went to bed around nine pm. They trained physically, learned Marine Corp. procedure and learned how to use their weapons. They ran five miles in the morning.  It was hot in South Carolina during the summer. He still remembers his instructors.
"They were tough but they were fair," Dube said. When he was asked how he got through basic training he said he did it by doing what they told him to do. He served in California and provided security for the base and nuclear weapons. Then he served in Japan in the intelligence unit and he finished up there. He served four years total. His most memorable experience was a bad one when someone was killed during a domestic dispute.  
The food was awful at most bases.  In Okinawa there were huge roaches running around.  "It was pretty gross. We were in rounded huts with plywood walls." In California they paid him to live out of town.  
"I lived in an apartment in San Franisco which was nice and fun."
About the Writer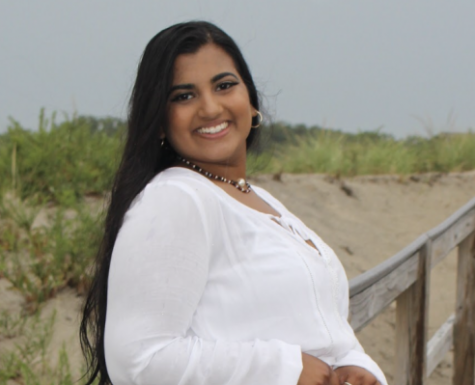 Rachel Miller, Staff Writer
My name is Rachel Miller. I am a senior at Triton High School. I enjoy covering articles on relevant news that is occurring in the high school or in our...