Triton works to prevent tragedy
The dangers of high school and decisions being made
Hang on for a minute...we're trying to find some more stories you might like.
Accidents and tragedies are happening all around us every day. Five boys from Stoughton High School, were in a car that crashed into a tree, Saturday, May 19, in East Bridgewater. And only one survived.
Authorities say the five teens were traveling in one car when it crashed into a tree at 558 West Street/Route 106 in East Bridgewater around 4 p.m.
"The 17-year-old driver of the car was initially taken to Good Samaritan Hospital in Brockton, but he is now being treated at Boston Medical Center, according to authorities. He is not being identified by the school or law enforcement." The Boston Globe reports.
Throughout high school, as students get older, they receive more privileges. One big privilege is getting their license. Road safety is a huge concern all over the world.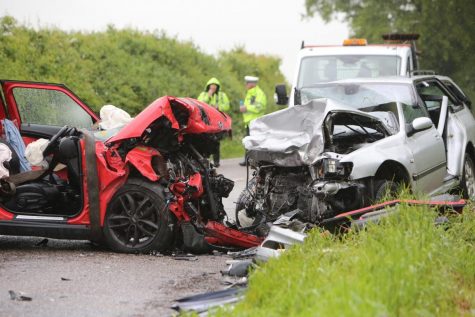 How is Triton working to protect their students and teach about road safety.
There is a club at Triton called SADD, Students Against Destructive Decisions, who focus on making students of Triton aware of the dangers of texting and driving, drinking and driving and not wearing a seatbelt while driving.
While driving a car they don't think about what could easily happen, just by making one wrong decision. For example, speeding, texting while driving, or driving under the influence. People die everyday from car accidents and most accidents are caused by one of these things that we sometimes don't pay attention to. Being in any of these situation, even one time is a big risk and can easily affect your life.  One text or one night where you think your sober enough to drive and you aren't can affect many lives at once.
Many of these situations start to get worse this time of year. Therefore, the SADD members are trying to educate students of what could happen, to make sure that it doesn't.
A SADD member and junior, Sarah Gilbert gives her insight into the club.
"It's a really good organization we help inform students about drug abuse and other abusive decisions, we try to get guest speakers to come in  to talk to the students and help them learn about the cause," said Gilbert.
Triton tries to send a message to the students, presenting different types of situations that high schoolers could easily get into. For the past four years, around time of prom, a wrecked car is put out on the grass near the exit of the school. It's there to educate students about the dangers of drunk driving, and what could happen, says Aliyah Frasca.
Another member of SADD, junior Aliyah Frasca, gave an insight on what SADD is really fighting for.
"Sadd stands for students against destructive decisions and we work to bring awareness to the triton community about how your choices can not only affect you, but it can affect those around you." Explains Junior Aliyah Frasca.
"Most students I think, don't realize this, but we are the group that stands outside in the mornings on most half days with the 'honk if your wearing a seatbelt' signs. We do this as a fun way to show students the value of seat belts," Frasca continues. "We also bring a wrecked car on campus that students see usually the end of the year on there way out of school to also bring awareness"
Once in awhile the Triton SADD club puts on assemblies, and has guest speakers that come and talk to the school, or put on plays showing what could happen if you get into drugs and alcohol. They present all different types of situations and show the students how bad it can get, and the damage that drugs and alcohol can do.
Principles secretary Ms. Kim Right, runs the Sadd program with academic support teacher Ms. Wagner. She explains what the club is about and what they do to raise awareness for the students at Triton.
"We recently did the honking of horns, when people drive in to school in the morning and at the end of the day when they leave, to get kids to wear their seat belts. We hold out big signs that say 'HONK' on them, so people honk as they're driving by."
"Every year we also put the destroyed car outside on the grass near the exit of the school to show the dangers, and rise awareness of drunk driving and texting and driving," says Right.
"At the beginning of the year we had a speaker come from improbable players, who were recovering addicts of drugs and alcohol. They come to talk about the dangers of it and give examples of what what can happen," Right continues.
Triton Sadd works to try and educate students about the dancers of what could happen due to the decisions teenagers are making that can affect both them and other people's lives, especially this time of year.
"Next year we hope do a lot more with the Sadd program. We already have a walk for life planned in September, where kids will walk around the track to raise money, that will be donated to programs with recovering addicts. This has already been started working on for the fall." Ms. Right explains.
Picture courtesy of http://www.bournemouthecho.co.uk/resources/images/5090251/?type=responsive-gallery-fullscreen