Snow Days Here to Stay
Could Online School and Blizzard Bags Become Our New Normal?
Waking up early in the morning and being greeted with fresh snow on the ground. Rushing downstairs, turning on the TV and watching the school names scan across the screen: it's a snow day! But will snow days still look the same this year? Or will there be changes to our snow day protocol?
There have been lingering rumors about online snow days or what some call "blizzard bags". The Triton Voice spoke with Mr. Forget to find out what a snow day will really look like for our district this year.
When deciding to have a snow day or not there are a lot of factors that play into this decision. Forget says he ultimately makes the decision but only after consulting with local police and our facilities directors. Depending on the storm and its severity the call can be made the night before. Other times, Forget wakes up to watch the weather as early as 3 AM and the school cameras to see if the plows have cleared everything yet. If it is decided that a snow day is the best option for the weather conditions that day, staff are usually notified by 5:30 AM and students' families by 6:00 AM. 
This is how making the decision to have snow days or not has happened for years. But recently some have been questioning if snow days will still be the much needed days off that we all look forward to. With talk of blizzard bags or online learning. After speaking with both Mr. Kelley and Mr. Forget, neither of these are an option for our school. Our snow days are here to stay.
Remote learning is no longer an option for any schools in the state of Massachusetts even in the circumstances of a snow day. 
"The Department of Elementary and Secondary Education said that no matter the situation, remote learning no longer counts toward a district's minimum required structured learning time. When DESE did allow it (two years ago), many schools were already remote due to the COVID-19 pandemic. The choice, DESE said at the time, was only available for the 2020-2021 school year," Masslive.com stated.
This means that we will have our traditional snow days and make up the missed days at the end of the year, except for seniors who get out earlier. However if we were to have online school days we wouldn't have to make these days up. Some have mixed emotions about this..
"I would rather have snow days not online because they make me really happy waking up and finding out I don't have to do any school for the day," said junior Anna Webb. "I don't like how we have to make them up at the end of the year but either way it is better than online work." Senior Matthew Sauris agrees.
"I would just want the day off," said Sauris. "It doesn't really affect me because seniors get out early but I would rather not do online school."
If we do get a lot of snow this year resulting in many snow days, students will have to make them up. There is however a cut off to how long the school can keep the students before summer break. 
"We have to complete 180 days by June 30th of each year, and publish a calendar that lists the 185th day if we use 5 snow days. Prior to March 31st, we have to make up any and all days that we miss each year. Days that we miss between April 1st  and June 1st only have to be made up until we reach that scheduled 185 days on the calendar. If we've already had 10 snow days by March 31st though, we would be in school until we fulfill those 10 days. We do not have to make up any days we miss following June 1st of each year." Said Forget. 
Although complicated this is how the district's schedule has worked for years. So in conclusion there will be no change to our schedule snow days or how we will be making them up at the end of the year. Having a snow day or two is beneficial for our students and staff to relax during the harsh month of winter.
"I am a believer in an old-fashioned snow day," said Superintendent Brian Forget. "However, when we get too many of them and we push the final day later into June, I do not believe that is beneficial due to the fact that schools get warm, and both students and teachers lose steam after a long year. Having a few snow days each year is a good thing, though, in my mind." .
Everyone will get to stay home and enjoy a day off or two this winter with no assigned online work. No blizzard bags needed.
Leave a Comment
About the Contributor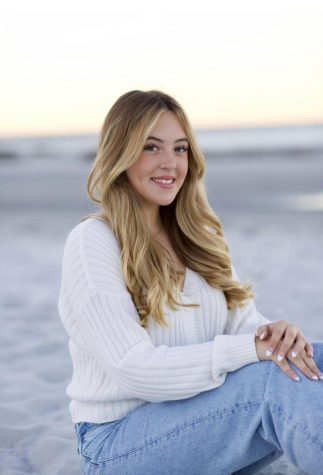 Maggie Reilly
Hi! My name is Maggie Reilly. I'm a senior here at Triton High School. I'm a Field Hockey goalie and have played the sport for 7 years now. I grew up...