Emotions spill over in Hoovers' It Ends With Us
It Ends With Us by Colleen Hoover is a heartbreaking story that leaves you wanting more.
The main character, Lily Bloom, has grown up all her life seeing her mom get abused by her father.  She always knew it wasn't supposed to be like that but also has always felt very powerless. 
 She moved to Boston, set up her dream flower business and met Ryle Kincaid.  Ryle is a neurosurgeon and immediately felt a spark with Lily.  He was almost too good to be true.  After a slow burning reconnection it took no time for Ryle and Lily to fall in love.  At the same time, she is following along in her diary entries of when she was younger and her relationship with Atlas Corrigan.  Atlas was Lily's childhood boyfriend.  They had a very serious relationship at a young age.    Throughout the book she gets put into a lot of heartbreaking and life changing situations.  
"Fifteen seconds.  That's all it takes to completely change everything about a person.  Fifteen."  Lily said nervously after she got to see who the person she's in love with really is. 
When you're not the victim of abuse it's so easy to make comments and ask why the victim didn't do anything.  While following Lily through her life and slowly seeing what her life is turning into it is very eye opening.  People always think they know exactly how they would act and what they would do if they were in the situation.  But, this situation is a perfect example of not doing what you thought you would do if you ended up in this situation.  
This was my first book by Colleen Hoover and I was hooked from the beginning by what the message the book was trying to send.  Throughout the book you have Lily's emotions in your hands and without that you couldn't feel all of the emotions that you get during the book.  Hoover touches on a lot of real problems in the world and you learn a lot about domestic abuse and the realities of why it is so difficult for the abusee to leave the abuser.  Junior, Arianna Basile, was asked about her first thoughts of the main message of the book and excitedly answered "I think it's a great message for young teens and it is a great example that shows it is possible for you to step away from a situation when it is toxic."
It Ends With Us most definitely tugs on all of your emotional strings.  The ending is very necessary and unpredictable.  It is a heart wrenching story in the best possible way.
Leave a Comment
About the Contributor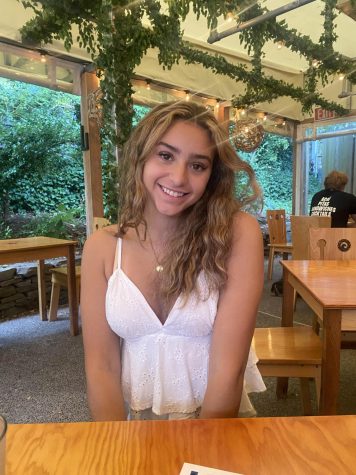 Zoe Rivera
Hi! My name is Zoe Rivera.  I'm a junior at Triton High school. Outside of school I run track.  I used to be a competitive gymnast but I switched to...