Backyard Bonanza
Exploring backyard ice rinks within the Triton community that draw excitement and winter fun
Shawn Killeen constructed his first version of a Rowley backyard rink in 2004, a 12 foot by 15 foot rectangle that hosted parties for young kids and an attraction unlike anything else in town. After 18 years and 5 kids growing older each winter, the rink has expanded to 40 feet by 65 feet, complete with nets behind the goal posts and flags from around the world. A massive light shines from a tree that overlooks the rink, as bright and lively night skating occurs often on Friday nights with friends.
In the midst of yet another new Covid strand outbreak, even socializing outdoors has become difficult. Cold temperatures keep people inside and increases the chance of catching the virus. While not a new idea, a concept that has been gaining popularity over the past two years is building backyard ice rinks like Killeen's. Whether it is an avid hockey family or a group of amatuer skaters, having the ability to skate in one's own backyard creates a fun environment and great outdoor activity. 
The process of putting up a rink may look intimidating but does not have too many moving parts. With experience, setting it up may only take a few hours. Filling up Killeen's rink takes a full stream garden hose and 24 hours, a total of 26,000 gallons. An increase in the monthly water bill is definitely seen, costing $450 annually to fill the rink. It usually takes a few weeks and a lot of cold weather for the ice to freeze completely and to allow for multiple people to get on and skate.  
Proper placement of a backyard ice rink is essential. If the location is slanted or has excessive bumps this will cause issues. If the area is exposed to direct sunlight from sunrise to sunset, melting is expected as well as  a much shorter season. While rinks can be purchased in a set online, complete with everything one would need to have a full set up, Killeen chose a different route. He used  ¾-inch plywood planks that are 8 feet by 1 foot, a total of $600, black brackets for the plywood to sit in, worth $600, a liner from NiceRink.com for $500, and yellow circular pieces of foam to keep the liner in place, the set up has been smooth for several years. 
The season is unfortunately short, getting six weeks out of it is impressive. The sun angle changes in February, quickly ruining the ice and turning it into a pond as the temperatures rise. But Killeen says it is worth it.
"It creates great childhood memories, a perfect outdoor winter activity, fun with friends and the exercise part is important", said Killeen. 
Several homemade, backyard rinks can be seen throughout the Triton community each winter, another being on the property of the Lindholm Family in Rowley, just a street down from the Gay-Killeens. With three avid hockey players in the family, a rink is essential for both the extra hours of practice and friend hangouts to shoot pucks. The Lindholm's have been setting up their rink during  the cold months since 2011, adjusting it to make it perfect each time. Father John Lindholm explained the inspiration to start up his rink.
"Having three young hockey players and a neighborhood of friends that played hockey… I wanted to create a venue for my kids and their friends to have fun playing the game they love", said Lindholm. 
Cole Daniels, a Triton student who had his own backyard rink for 10 years before getting his backyard redone with a patio, enjoyed having this in the winter. Playing hockey since he was 5 years old, it has helped contribute to his success as a player. Daniels is now a senior captain on the team. 
"It's nice to be able to go out and skate whenever you want, especially as a hockey player," said Daniels. "It's a lot harder to get in practice time than other sports, since the only way is on ice." 
While sitting inside all winter has its relaxation benefits, skating is a fun skill to learn, especially when it's right in a backyard. The New England weather benefits those who live here with the ability to put up their own ice rink, not something that can be done all over the country. This classic winter activity followed by hot chocolate and a movie by the fireplace is a tradition; one that is wholesome and will bring anyone back to feeling like a kid. 
Leave a Comment
About the Contributor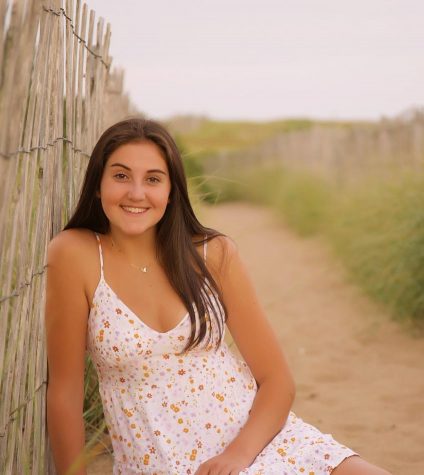 Ellie Gay-Killeen, Staff Writer
Hi! My name is Ellie Gay-Killeen and I'm a senior at Triton High School. I was formally a runner on the high school team from eighth grade to junior...