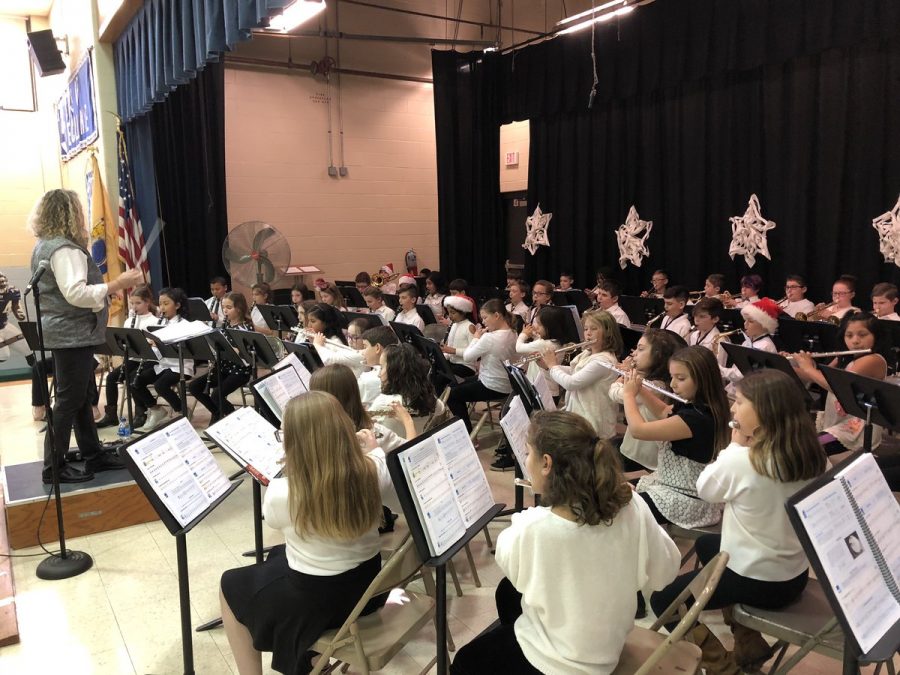 Newbury Elementary School Twitter
Carew's New Chorus
Music notes fill the room from the ceiling to the colored tiles on the floor. Six lines run horizontally across the whiteboard at the front of the room. The entire room is set up for teaching students the art of music. It's set up just the way new music teacher Mrs. Amanda Carew wants.
This year, Triton Regional School District gained new teachers; many of whom can be found in the elementary schools. Carew is among the few who can now be found at Newbury Elementary School.
Learning everyone's names and getting to know each and every student is something all teachers must deal with at some point. However, Carew said her first week had been great and that it had been an absolute joy to meet the kids.
"It was so exciting to see how enthusiastic the Newbury Elementary students are about music," stated Carew.
Carew found her love of the art of music when she had her first chorus solo in sixth grade. She said she fell deeper in love with the art after having a supportive piano teacher. After high school, she went on to study at the University of Dayton and New York's Hofstra University before becoming a teacher at a New York, New York school. There, she taught chorus, general music, and instrumental lessons. After nine years at the school in New York, she took 10 years off from teaching to raise her two boys. She returned to teaching in the Triton School District.
Carew and her sons, who are in second and fifth grades, love spending time outdoors. They spend as much time as possible skiing, biking, hiking, and boating. When her sons turned five, they started attending Newbury Elementary and the family fell in love with the district's arts program.
"I had a positive experience as a parent knowing that people in the district take the arts programs seriously," said Carew.
Now, she is teaching the entire elementary school the basics of music while also leading the fifth and sixth grade chorus and the fourth grade beginner's band.
"I love music and I want my students to love music. I want them to be able to find the joy that music can bring to everyone," stated Carew.
The librarian of the school, Ms. Jen Brown, is Carew's mentor for the school year. She showed the new teacher around and is helping her adjust to the new environment quickly. They were paired up because the two will be working in the same portion of the school. They will be working side-by-side since they both work in the arts and extra-curricular departments.
"Amanda has really good enthusiasm for the position. She has a great energy," said Brown.
Carew also works with other music teachers throughout the district for activities such as the stage band, an advanced band program for selected students from each elementary school. Ms. Deborah MacKinnon, a fellow band and music teacher, works at all three elementary schools throughout the week and has communicated with the new teacher since her first day.
"I really enjoy working with our new music teacher at NES, Mrs. Carew," stated MacKinnon, "Her passion for teaching music, and wanting her students to really enjoy music, is a joy to observe. She comes to NES with a lot of experience, and I think we are very lucky to have her be a member of our music department. I look forward to working with Mrs. Carew for a very long time."
Carew said she looks forward to the classes ahead and cannot wait to teach the students as best she can to instill the same love of music that she's had from an early age. She hopes to pass the feeling down and inspire her students to continue making and appreciating music.
Photo courtesy of  the Newbury PTA Website; It can be found here: