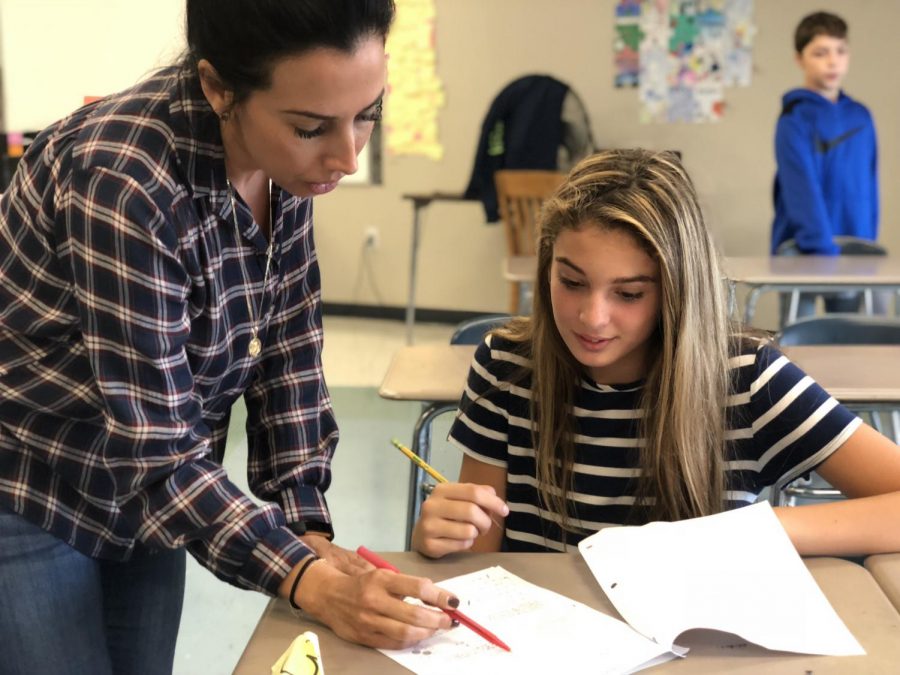 Math and Middle School
"I'm thrilled that she's here, hands down our best candidate. There wasn't even a question, after we met her and she left the room we wanted to hire her. We knew from the start that she would be a good fit here."
This is what Mrs. Lee Viola recalls as her first impressions of Ms. Christina Thomas, the new 7th grade math teacher who comes from the Everett school system. Ms. Thomas brings a breath of life to Triton Middle School her colleagues say, and is impressing both her colleagues and her students with her inspiring attitude.
Thomas is one of the 26 new teachers this year. She had her beginnings attending public schools in Saugus, where she grew up. She later attended Nazareth College and Salem State University, majoring in business.
"I thought to myself, I think I want to have a career where I can possibly make a difference in someone's life," said Thomas.
Thomas has had a unique experience in the realm of teaching. Coming from an inner city school, she has dealt with many situations and problems, which have strengthened her as a teacher. Moving to a rural based high school such as Triton has been a wonderful experience for her, she said.
"I feel like here I can actually do my job. It's a very very positive atmosphere, people have been so nice to me, and I'm so so so happy." said Thomas.
Mr. Alan MacRae, Principal of Triton Middle School, remarked on how personable Ms. Thomas was throughout their interview.
"Out of 55 applicants, she was one of the finalists we picked out," said MacRae. "She elaborated on things, she shared her own personal experiences rather than one word answers – which is a good tip for anyone being interviewed.
"She just stood out personality-wise in addition to her math skills," said MacRae.
Each new teacher at Triton is assigned a mentor teacher – a teacher who has significant experience which may benefit the new teacher. Viola was assigned to Thomas.
The two teachers share the same prep period, and often discuss the curriculum and collaborate with each other.
"It's exciting," said Viola. "This is the first time I'm having a chance to collaborate like this, with someone who's really into like, 'let's change it a bit, let's see what's gonna make the students learn this better'.
"This is the first chance I've had to collaborate with someone the way we are. I'm really enjoying it," said Viola.
Ms. Thomas has brought some interesting, yet effective teaching methods to Triton. Any work assigned in her class is given the title 'mild' or 'spicy', indicating the difficulty of each worksheet. Students are given opportunities to push themselves academically, and to challenge their minds with more intense work.