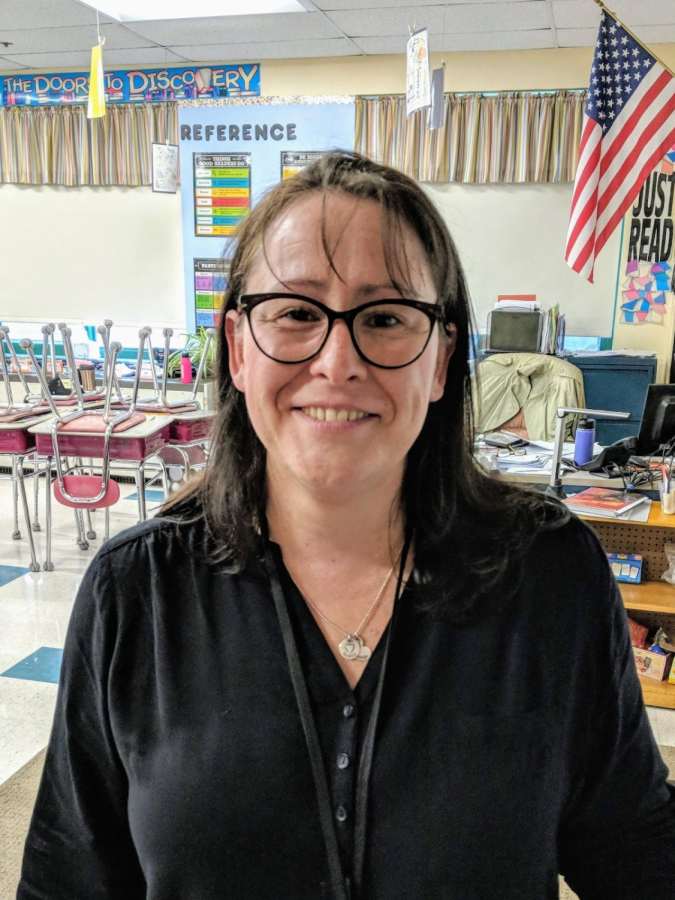 Engaged N.E.S Parent Describes New Job
As the main doors of Newbury Elementary open, the life-sized, metallic cop holding a stop sign guards the entrance. Nostalgia floods one's memories as they walk up the stairs leading up to the main office.  Waiting at the doors of a conference room, Heather DePaolo gives off a sense of hospitality.
"N.E.S is like a family," DePaolo remarks as she sits down for an interview.
DePaolo has a busy transcript in the N.E.S community; from subbing in the classroom to working with the after-school "Explore" Program, DePaolo is no novice when it comes to N.E.S and the overarching, tight-knit community. This year, however, she is taking on a new challenge.  
DePaolo is now an official student aide. She works one-on-one with a student in the fifth grade to help him "with his school work, help him stay organized, figure out his day-to-day, and stay on schedule."
For DePaolo, the most enjoyable part about her new aide-position is "The kids; It's very rewarding to see the smiles on their faces and the look they give you when they finally understand something that didn't make sense 10 minutes before," said DePaolo, who is also a mother and an experienced caretaker.
Even though she has known and been involved with the community for quite some time, her first day on the job proved to be somewhat nerve wracking: "I would say [I was] nervous — nervous because it's a new position, but I was definitely less nervous because I've been here for so long. It wasn't quite as stressful as it could have been," she said. Her involvement with the community has eased her into her new position.
When asked about who to go to next for information on herself, Depaolo said to look to Kate Snowden, fifth grade special education teacher, as well as the principal, Beth Yando.
Snowden has been at the school for two years, spending her first year working with fourth and fifth grade kids in the special needs program. She moved up this year to be alongside her fourth grade students. She now, in her new role with the school, oversees all the special-needs kids and their teachers in the fifth grade, including DePaolo and her student.
"She's doing a fantastic job… I'm very happy to have her working with me," Snowden stated when she was asked about how she felt DePaolo was doing in her new position. Snowden was very pleased to see how well DePaolo has done in adapting to the new and possibly challenging responsibility.
"This is the first year we have worked together directly," but they have not had any issue with working together. Snowden said that "[We meet] three to five times a day," during which they will talk and discuss any questions that Heather has about what she should or should not be doing with her student. If DePaolo ever has a question about what to do in any situation, Snowden is her go-to.
Yando also believes DePaolo has assimilated well into her new position, saying, "She is doing a great job in her new position." DePaolo has rarely come to Yando with questions, and has had zero issues regarding her new position. She has questions that she will go to either Yando or Snowden for from time to time, but has not had many major issues thus far in the school year.
Heather DePaolo, a new aid at N.E.S. with a large resume to back her up, had big expectations from others coming into her first year as a special education aide. Snowden, DePaolo's go-to, had nothing but high remarks to give her, and the principal of the school. Beth Yando, who may have had the highest expectations of her, also had only positive things to say about her and everything she has done this year. DePaolo has a lot of experience with kids under her belt, and will definitely be able to put this to use in her coming years as an aide at N.E.S.