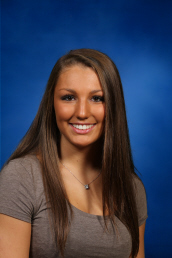 My name is Paige Zukowski, and I am a Junior at Triton High School. I like covering the Triton newspaper because hearing about the latest news and writing stories on what's going on in our world interests me.
I've been dancing my whole life, I'm doing track this year, and I like to go out with friends on my free time. Over the summer I lifeguard at a boat club pool, and work at  Hayley's ice cream spring through September. Something "offbeat" about me is that I am an only child and have always wished that I had siblings.
Getting closer to senior year, there's a lot that comes to mind. I most likely will go to college for business. If not, I am also interested in criminal justice. There are a few colleges that I have in mind for where I want to go. I have thought about going down South, to somewhere in South Carolina or Florida. I have always wanted to go somewhere warm, but also want to be closer than a plane flight away from home, to have flexibility to come home. Therefore, I have also thought about many colleges in New England, maybe UNH.
Writing for the newspaper is important because it gives people the facts and allows them to form their own opinions on it. In ways it can also bring the community closer, because it creates more talk about what's going on. I have thought about what it would be like to write for any type of news in the future, and it would be a cool job, and you would always know everything that's going on, but it also requires a lot of work and you have to always stay on tops of things.
Paige Zukowski, Zukowski
May 17, 2018

US Launches Missiles

(Story)

Apr 06, 2018

Random drug testing on student athletes

(Story)

Apr 01, 2018

Media Fast, February 28, 2018

(Story)

Apr 01, 2018

Flu sickness results in many absences

(Story)

Feb 12, 2018

Positive outcomes of 2017

(Story)

Feb 12, 2018
Jan 09, 2018

President Trump's Tax Change Plan

(Story)

Dec 16, 2017

The Scoop on Triton's Vending Machines

(Story)

Dec 15, 2017

The scoop on Triton's half days

(Story)

Dec 15, 2017

Triton's Vending Machines

(Story)

Nov 01, 2017
Sep 29, 2017

Starbucks VS Dunkin Donuts

(Story)