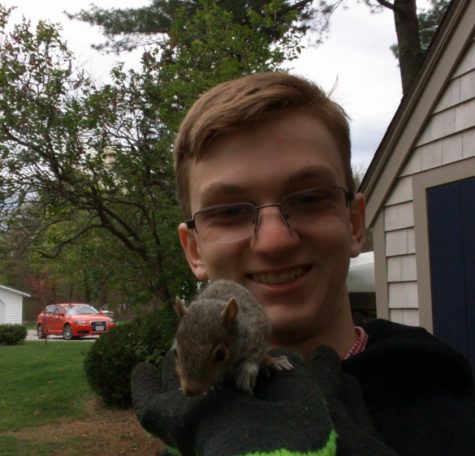 My name is Michael Fish, a senior at Triton High School and a staff writer for the Triton Voice. I am interested in writing about stories that will help the student body and inform them of changes in the school throughout the year.
A lot of my free time is spent at David's Fish Market, my part-time job that I work four days a week after school. In the rest of my free time, you could find me playing video games, taking care of my various pet amphibians, and visiting my girlfriend at UNH. In the future, I hope to be involved in the Environmental Science and attend either UNH or UNE.
I enjoy writing for the Triton Voice because it is a completely different experience from any other English class I have taken, and it is an interesting new experience. I think Journalism is important because it teaches different skills than any other English class, and gives students new skills that they would be able to use later in life, such as communications with people you are not extremely familiar with. It also helps to keep the student body informed of new and important changes to the school, as well as other general knowledge of the school.
There is only one thing I need at the end of a long day of work and school; to come home and see my frogs happy and well, ready for me to turn their lights off. I also enjoy shooting aliens in Destiny 2, and racing people in Need For Speed: Payback.
Michael Fish, Staff Writer
Jun 04, 2019

Selectmen Mr. Doyle

(Story)

May 16, 2019

Rough Roads From Rowley to Salisbury

(Story)

Apr 12, 2019

Vending Machines and Their Place in High Schools

(Story/Media)

Mar 18, 2019

Dropping Into Apex Legends

(Story/Media)

Mar 19, 2019

Volkswagen Golf: A Review

(Media)

Feb 28, 2019

Three Towns, Six Hundred Eighty One Differences

(Story)

Feb 05, 2019

Cohen's Conspiracy

(Story)

Jan 17, 2019

Is Amazon Too Big for its Britches?

(Story)

Jan 03, 2019

Student Perspective: Trump & Russia 101

(Story)

Dec 14, 2018

Student Search & Seizure

(Story)

Nov 20, 2018

First-Time Voters Share Their Experience

(Story/Media)

Nov 09, 2018

(College) Deadlines, Deadlines, Deadlines!

(Story/Media)

Oct 23, 2018

The Ever-Changing Middle School

(Story)

Nov 19, 2018

New Teachers in Newbury

(Story)